This free webinar series offer the opportunity to further explore the career theories and models compiled in CERIC's book Career Theories and Models at Work: Ideas for Practice. Webinars are led by the contributing authors to the book. More webinars (English and French) presented by the authors of the book will be added to the series soon!
Webinar #1: COVID, Chaos and Careers: Using the Chaos Theory of Careers to Navigate Uncertainty
Date: Monday, October 5, 2020 | 5:00 pm – 6:00 pm ET
Presenter : Jim Bright, Australian Catholic University, Australia
Language: English
Overview
The Chaos Theory of Careers (CTC) has been around for about 20 years. It provides a comprehensive theoretical framework for considering careers based on complexity, change and chance. Rather than encouraging long-term rigid plans that are likely to be undermined by changing circumstances and preferences, the CTC philosophy empowers individuals by developing their capacity for handling uncertainty, being resilient and optimistic, being able to change in creative ways, and recognizing that failure and limitations are important and useful aspects of the human experience.
Why You Should Attend
In this free webinar, participants will be introduced to an approach to career development that captures the realities of complexity, change and chance in people's careers. Professor Jim Bright, the co-creator with Dr Robert Pryor of the CTC, will present an overview of the CTC and relate it to the global pandemic of COVID and the uncertainty that it has created in many people's lives. He will show how adopting the Chaos approach in coaching, counselling, education and assessment can help clients and students develop better, more resilient and more realistic career strategies and knacks. Participants will leave the webinar with a better idea on how this approach can be used effectively with clients.
Webinar Learnings:
Understand the fundamentals of the CTC
Appreciate the importance of limitations in behaviour change
Gain insight into concepts such as dynamic order, emergent patterns and fractals as they apply to careers
Understand the co-dependent relationship of order and disorder, stability and change, chance and certainty
Recognize some of the CTC tools and techniques that can be used with clients or in career education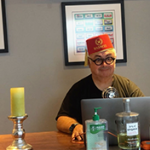 Dr Jim Bright is Professor of Career Education and Development at Australian Catholic University. Based in Sydney, Australia, he is a practicing psychologist, who works with clients in medico-legal matters such as motor vehicle accidents and workplace injuries, as well as coaching elite sports people and executives. He is a past Cannexus keynoter. Jim Bright is also one of the authors of the Career Theories and Models at Work: Ideas for Practice book (Chapter 33 – Chaos Theory for Career Counsellors).
Webinar #2: Career Engagement: Re-Aligning Challenge and Capacity in Chaotic Times
Date : Monday, October 19, 2020 | 12:00 pm – 1:00 pm ET
Presenters: Roberta Borgen (Neault) & Deirdre Pickerell, Life Strategies Ltd., Canada
Language: English
Overview
Chaotic times have a way of disrupting the careful balance between challenge and capacity required for optimal engagement. Too much challenge for the available capacity (individual or organizational) can be overwhelming; too little challenge, though, leaves people feeling underutilized. COVID-19's impact within the work, life, and learning spheres is undeniable; however, in considering "engagement," career development practitioners need to attend to the nuances of the individual's experience. For those who transitioned to working from home, feeling overwhelmed was likely exacerbated by things like learning new technologies and taking on more childcare responsibilities; for those who were laid off, underutilization was likely exaggerated by being "stuck at home." If left unchecked, both overwhelmed and underutilized individuals are at risk for complete disengagement. Career development professionals, human resource professionals and community leaders all have a role to play in supporting re-engagement efforts –– holistically taking into account all life roles.
Why You Should Attend
Join Drs Neault and Pickerell in this free webinar and learn more about their Career Engagement Model, and discuss strategies for applying the model with your clients to achieve and sustain an optimal level of engagement. The webinar will allow you to reflect on life roles and how they impact each other in a career context and to develop a theoretically grounded, holistic approach to career interventions and supports – for yourself and your clients. You will leave the session with concrete tips for applying the career engagement model with clients across their unique contexts.
Webinar Learnings:
Explore dynamic interaction of challenge and capacity
Understand both individual and organizational responsibility related to career engagement
Discover how interconnected life and work roles affect career engagement
Gain insights to apply the career engagement model with your clients
Recognize the signs of career disengagement

Dr Roberta Borgen (Neault), President of Life Strategies Ltd., Adjunct Professor at the University of British Columbia, and Project Director for the Canadian Career Development Foundation (CCDF), is co-developer of the Career Engagement model, and has extensive experience as an educator and counsellor supporting individuals and organizations with transitions, engagement and strategies to maximize their success.

Dr Deirdre Pickerell, CPHR, GCDF-I, Vice President of Life Strategies Ltd. and Dean of Student Success at Yorkville University/Toronto Film School, is an award-winning career professional with 25 years of experience and co-author of the Career Engagement model. Her doctoral research focused on career engagement among Canadian career development practitioners.
Dr Roberta Borgen (Neault) and Dr Deirdre Pickerell are also among the authors of the Career Theories and Models at Work: Ideas for Practice book (Chapter 26: Career Engagement: A Conceptual Model for Aligning Challenge and Capacity)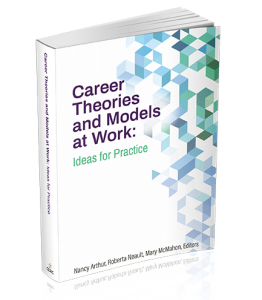 Career Theories and Models at Work: Ideas for Practice

CERIC's book Career Theories and Models at Work: Ideas for Practice is an international collection of contemporary and emerging career development theories and models that aims to inform the practice of career development professionals around the globe. It is also intended to be used as a text for undergraduate and graduate career counselling courses.
Contains 43 chapters on the theories and models that define the practice of career development today
Contributors are 60 of the leading career researchers and practitioners from four continents and nine countries: Australia, Canada, England, Finland, India, the Netherlands, New Zealand, South Africa and the United States
Featured authors include the original theorists and those who have adapted the work in unique ways to inform career development practice