Free Webinar: Small Businesses: Who They Hire and How to Engage Them – April 13, 2017 with Lisa Taylor

Presenter: Lisa Taylor
Date and Time: Thursday, April 13, 2017, 12:00 pm – 1:00 pm ET
Cost: FREE
This webinar will be of interest to career practitioners, including job developers, employer relations specialists, counsellors, employment advisors and coaches in post-secondary, community agencies, government and private practice.  
All registered participants will receive a link to the recording of the webinar.
In Canada, 99.7% of all businesses with employees are small- or medium-sized enterprises (SMEs), with the vast majority of organizations falling into the category of "micro business," employing 10 or fewer employees. In 2015, SMEs employed 90.3% of the private sector workforce (10.5 million Canadians). This means your clients –  whether students looking to launch their careers, adults needing to transition to a new sector, or employees wanting to advance in their roles – will most likely find themselves working for a small business.
Join Lisa Taylor, author of CERIC's new Retain and Gain: Career Management for Small Business Playbook, to learn about the workforce needs of small business today. She will share best practices research and her findings from interviews with SMEs in a variety of sectors across the country. Gain insights that will help you better advise clients – and better partner with small employers who worry about recruiting and retaining the right talent to help them grow their businesses.
In this dynamic webinar, you will:
Discover the current landscape of Canada's small business economy
Find out what SME owners want career practitioners to know
Learn how to build relationships with employers by providing quick, easy, no-cost career management activities they can use to keep and develop staff
Identify how to debunk common misconceptions such as small organizations with flat organizational structures and limited resources can't establish good career practices
Consider special factors when working with new graduates, clients who have been out of the workforce or older workers 50+, in the context of small business
Plus, given that most career and employment services are SMEs too, managers and directors will also pick up valuable tips to be better employers for their own teams.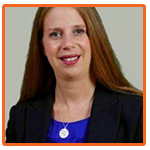 Lisa Taylor is founder and President of Challenge Factory and the Centre for Career Innovation. Her career and workforce perspectives have been featured in media outlets across North America including The Wall Street Journal, Huffington Post, CBC and The Globe and Mail. Taylor regularly speaks on the Future of Work, the intergenerational workforce and the changing nature of careers in today's economy.