Summer Skills Academy, July 7, 8 & 9, 2015

The CERIC Summer Skills Academy is back for 2015 with a new format, a new location but the same intensive high-quality learning you have come to expect!
Taking place July 7, 8 & 9 in Toronto, CERIC's Summer Skills Academy meets your need for training that is face-to-face, in-depth, and, importantly, fits your budget.
Designed for career practitioners, executive directors and other professionals with an interest in career development, these seminars cover a range of carefully selected topics.
Download our 1-page overview of the 2015 Summer Skills Academy
Join leading experts to update your knowledge, sharpen your skills and re-energize yourself!
Seminars
Rates
We are offering you 3 full days with three seminar leaders, one per day. You can choose one, two or all three seminars. One day is offered for the Early Bird rate of $195, if you attend 2 days you get 10% off each and pay $176 for both, and should you register for all three days you register for each day at the low rate of $166, which is 15% off the price. The regular rate is $225 per seminar.
Register by May 29, 2015 (5:00 pm ET) for Early Bird rates!
Save by registering for more than one seminar, or make it a team event by sending staff to each seminar to maximize your organization's learning.
Schedule and Meals 
Seminars run from 9:00 am to 5:00 pm. The schedule for each of the three days is as follows: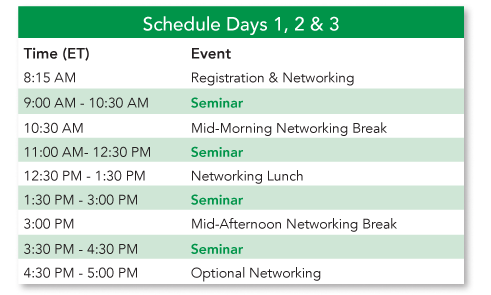 Location
Seminars will be taking place at the CERIC office in midtown Toronto. The office is located at 18 Spadina Road. This is just north (2-minute walk) of the Spadina Subway Station.
Parking
Two Green P parking lots are located at the corner of Bloor and Spadina just north of Bloor St. Parking at 4 Spadina Rd. is $10 per day or parking at 19 Spadina Rd. is $8.50 per day.
Hotel
The following hotels are located near the CERIC office:
Please note that the PanAm games are taking place in Toronto beginning July 10. Please book early to avoid disappointment.
Support Persons Policy
The registration fee for any person who is considered a support person accompanying an attendee with a disability will be waived.
Scent-free Policy
In response to health concerns, CERIC wishes to limit the use of scented products at its events. Scented products such as hair sprays perfume and scented deodorants may trigger reactions such as respiratory distress and headaches. In consideration of others, people attending the event are asked to limit or refrain from using scented products. Your co-operation is appreciated.
Cancellation Policy
Requests for cancellation(s) must be made by emailing your request to registration@ceric.ca. Cancellation requests must be received before June 30, 2015 at 5:00 pm ET. NO REFUNDS are granted after this date.
An administrative fee on a sliding scale will be deducted from any refund for a Summer Skills registration as follows:
20% fee for cancellations requested by May 29, 2015, 5:00 pm ET
30% fee for cancellations requested by June 30, 2015, 5:00 pm ET
Refunds will be issued within two weeks after receipt of the written notice.
It is regrettable that you are unable to attend due to unforeseen circumstances. Although we sympathize please note that we have a cancellation policy that helps us cover fixed costs due to non-attendance, regardless of circumstance (food and beverage orders and transaction costs associated with your registration – none of these can be altered so there are real costs involved).
Delegate substitutions are permissible. Please notify us at registration@ceric.ca if you intend to transfer your registration to another person. Supply us with that person's name and contact information, including their email address.
Testimonials
"The information was immediately useful. I was able to use the info my first day back at work and achieved success in a matter that was an issue for years."
– Charmaine Rodrick, Career Resource Advisor, Trent University Career Centre
"Thank you for a truly wonderful workshop! I came back to my workplace feeling really excited to share what I had learned and I am eager to put this to use."
– Tracy Kellar, Case Manager, Community and Family Services, City of Kingston
For any questions, please contact Susan Phillips, CERIC Conference & Events Manager at susan@ceric.ca or 416.929.2510 x126.