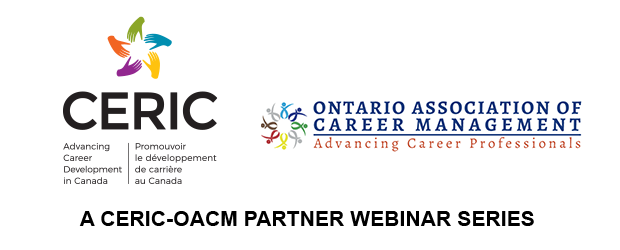 Webinar Series: Building Cultural Intelligence to Promote Diversity and Inclusion: What We Need to Know to Thrive in the Workplace – February 24, March 3 & 10, 2021 with Azumme Degun and the Ontario Association of Career Management (OACM)
Presenter: Azumme Degun
Language: English
Date & Time:
Cost:
Full Series OACM-Member: $119
Full Series Non OACM-Member: $159
Overview
Recent world happenings, including the Black Lives Matter movement, have placed a spotlight on diversity and inclusion. In order to align with the business and socially responsibility case for diversity and inclusion, more and more organizations are working towards repositioning their brands to understand racial bias, promote cultural intelligence and build a workforce that is diverse and inclusive.
Building and working in diverse and inclusive teams requires cultural intelligence as a competency and now is a great time to begin to develop an understanding of it.
Why You Should Attend
The world of work continues to evolve and the skills required to thrive in the workplace go beyond hard skills. One of the ways to excel in the workplace is to understand when changes are happening and how to optimize that change for career growth.
Equipping your clients to thrive in a multicultural work environment is essential, and it starts with you understanding the dynamics of the world of work as we now know it. As a career development practitioner, you need to gain an understanding of cultural intelligence, apply it to your own work and then you will be better equipped to share it with your clients.
What is cultural competency
How does it apply in the workplace
How to build CQ as an individual
How to encourage CQ in the workplace as an employer
Creating an organizational culture that encourages and rewards CQ
What is diversity
What is inclusion
Why do we need both diversity and inclusion
Diversity and inclusion strategies – from "individual" and "corporate" perspectives
What is implicit bias and systemic racism
How does it present in the workplace
Identifying and overcoming implicit bias in the workplace or when working with your clients
The consequences of implicit bias in the workforce and corporate organizations

Azumme Degun is a career development professional with expertise in immigrant career advisory, cultural intelligence, job search strategies, stakeholder engagement and diversity and inclusion advocacy. With a bachelor's degree in economics and over 12 years of experience spanning banking, government and not-for-profit, she has an avid interest in seeing new immigrants settle into Canada. In her role as the Program Director-Career Mentorship Program with Edmonton Region Immigrant Employment Council, she leads a team that helps immigrant professionals leverage the power of mentoring in their job search while also helping managers and employers harness a global talent pool, locally.
Cancellation Policy
Requests for cancellation(s) must be made by emailing your request to webinars@ceric.ca. Cancellation requests must be received before 5:00 pm ET 2 business days prior to the webinar date. NO REFUNDS are granted after this point. An administrative fee of 10% will be deducted from any paid webinar registration. Refunds will be issued within two weeks after receipt of the written notice.
Delegate substitutions are permissible. Please notify us at webinars@ceric.ca if you intend to transfer your registration to another person. Supply us with that person's name and contact information including their email address. The substitute delegate will be required to pay any difference in registration rate. If a technical failure at the attendee's home or workplace prevents access to the live webinar, the attendee will not be given a refund. It is the responsibility of the attendee to confirm system requirements and test their computers prior to the start of the webinar.