Webinar Series: Building Resilience in Career Transition – April 3 & 10, 2018 with Louisa Jewell

Presenter: Louisa Jewell
Date and Time:
Tuesday, April 3, 2018, 12:00 pm – 1:00 pm ET
Tuesday, April 10, 2018, 12:00 pm – 1:00 pm ET
Full Series Member: $97 ($CAD)
In addition to access to the live webinars, all registered participants will receive a password-protected video recording of each session, available for one week from its live broadcast date in case you miss one.
Whether it's a layoff or termination, or finding that "first job" for graduates or newcomers, most practitioners find career transition to be the most challenging time for their clients. Some people seem to be able to pick themselves up and carry on, while others languish in negativity. Finding new employment requires resilience and an optimistic mindset. The good news is, resilience skills can be taught and learned. Louisa Jewell will explore the latest findings in performance psychology and neuroscience and share coaching tools that will help your clients move from pessimism to optimism and maintain a resilient mindset for a smoother transition.
Webinar #1:  An Introduction to Cultivating Resilience
Tuesday, April 3, 2018  12:00 pm to 1:00 pm ET
Louisa Jewell, in part one of the series, using the latest research in psychology and neuroscience, will explore:
What resilience is and the 3 pathways to resilience
An introduction to the PERMAV well-being model and the 6 pillars of lasting well-being that lead to greater resilience
How to embrace failure: Strategies for bouncing back quickly in the moment, after an adversity
Strategies for reducing daily stressors
Gaining courage to prepare to go after the big goals
Webinar #2: Coaching Tools to Maintain a Resilient Mindset
Tuesday, April 10, 2018, 12:00 pm to 1:00 pm ET
Louisa Jewell, in part two of the series, will cover the necessary tools and pitfalls to avoid for maintaining a resilient mindset. Topics covered will include:
Tools for re-framing life's events and how to have a healthier way of approaching life
Exercises and activities that boost energy and build important resilience muscles in the future
Avoiding the self-doubt trap: How to have a strengths focus and why that is important
Supporting your clients in taking their career and life where they really want to go (when they are too afraid to go there)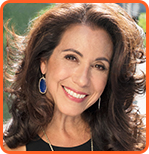 Louisa Jewell is a popular speaker, author and well-being expert who has inspired thousands of people from around the world to flourish with confidence. Louisa is the founder of the Canadian Positive Psychology Association and a graduate of the Master of Applied Positive Psychology program at UPENN. She is the author of the new book Wire Your Brain for Confidence: The Science of Conquering Self-Doubt. For more information visit: louisajewell.com.
Cancellation Policy
Requests for cancellation(s) must be made by emailing your request to registration@ceric.ca. Cancellation requests must be received before 5:00 pm ET 2 business days prior to the webinar date. NO REFUNDS are granted after this point. An administrative fee of 10% will be deducted from any paid webinar registration.
Refunds will be issued within two weeks after receipt of the written notice.
If a technical failure at the attendee's home or workplace prevents access to the live webinar, the attendee will not be given a refund. It is the responsibility of the attendee to confirm system requirements and test their computers prior to the start of the webinar.