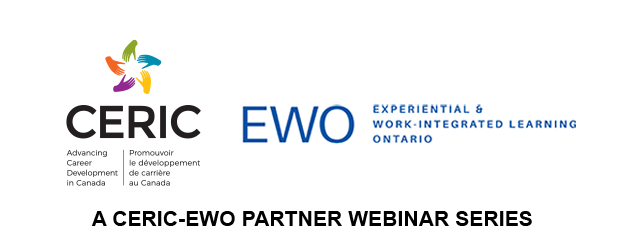 Webinar Series: Designing Feasible, Focused and Flexible Experiential Learning in Challenging Times! – February 25, March 4 & 11, 2021 with Lorraine Godden and Carolyn Hoessler
Presenters: Lorraine Godden & Carolyn Hoessler
Language: English
Date & Time:
Cost:
Full Series EWO-Member: $119
Full Series Non EWO-Member: $159
Overview
Getting experiential learning (EL) and work-integrated-learning (WIL) right is important, and getting each experience right feels complex. Multiple stakeholders, aims, and needs pose challenges to navigating relationships and designing experiences, while ongoing shifts to remote learning and restricted workplaces remove the usual options.
Why You Should Attend
This new webinar series comes in response to a popular standalone webinar delivered earlier this year by our presenters and aims to further your learning on how to design effective experiential learning. Participants don't need to have seen the standalone webinar to attend the series.
This deeper series will teach you how to navigate among stakeholders (e.g., learners, partnering organizations, senior school or institution administrators, government, and funders), identify the often-unstated intended outcomes of the experience, and design experiences within your context. Our two presenters will share the Outcome-Based Experiential Learning (OBEL) framework they developed as a concise and guided design process to enable you to successfully navigate EL planning and implementation. Furthermore, participants will also receive a complimentary copy of the new OBEL guide.
This webinar series is a good fit for:
Staff, educators and community partners working to co-design, recruit for, advise students, and offer experiences;
Community partners seeking to define why and how they will host experiences; and
Educational institutions and schools creating strategies.
Specify your stakeholders
Specify intended outcomes of experiential learning
Identify (or design a plan to co-identify) specific intended outcomes of each stakeholder group
Distinguish between opportunity types (WIL, practice spaces, projects and employment programs)
Identify the five design factors influencing the possible experiences
Using the five design factors, define your current context including its possibilities and constraints
Identify how to adapt existing or planned experiences when the factor changes in your context
Refine the design factors and intended outcomes including adaptation options
Select and design appropriate and feasible assessment options
Confirm alignment between intended outcomes, activities, assessment and evaluation utilizing the OBEL planning template  
What people are saying about Lorraine & Carolyn's webinar held this spring?

Lorraine Godden specializes in understanding how career and life planning, work-integrated-learning, and other educational multidisciplinary and public policies are interpreted and enacted into educational programming and public policy interventions. Lorraine has 20 plus years of experience implementing, evaluating and researching work-related policies in compulsory and post-secondary education.

Carolyn Hoessler specializes in designing relevant learning experiences, assessments and evaluation, and untangling factors to inform clear paths forward. Carolyn has over 14 years' experience working with teams (re)designing learning in higher education and professional development locally and nationally. She is the founder of Higher Education & Beyond (www.hedbeyond.ca).
Cancellation Policy
Requests for cancellation(s) must be made by emailing your request to webinars@ceric.ca. Cancellation requests must be received before 5:00 pm ET 2 business days prior to the webinar date. NO REFUNDS are granted after this point. An administrative fee of 10% will be deducted from any paid webinar registration. Refunds will be issued within two weeks after receipt of the written notice.
Delegate substitutions are permissible. Please notify us at webinars@ceric.ca if you intend to transfer your registration to another person. Supply us with that person's name and contact information including their email address. The substitute delegate will be required to pay any difference in registration rate. If a technical failure at the attendee's home or workplace prevents access to the live webinar, the attendee will not be given a refund. It is the responsibility of the attendee to confirm system requirements and test their computers prior to the start of the webinar.