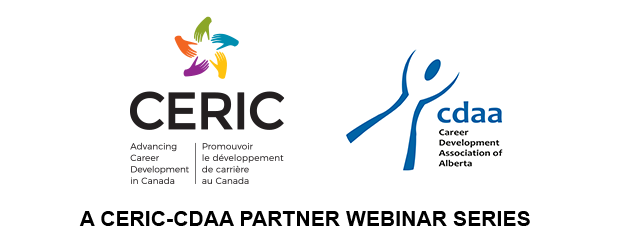 Webinar Series: Integrating Motivational Interviewing into Career Counselling Practice to Overcome Client Ambivalence – February 23, March 2 & 9, 2021 with Roxanne Sawatzky and the Career Development Association of Alberta (CDAA)
Presenter: Roxanne Sawatzky
Language: English
Date & Time:
Cost:
Full Series CDAA-Member: $119
Full Series Non CDAA-Member: $159
Overview
Motivational Interviewing (MI) is an evidence-based, client-centred approach that elicits behavioural changes by assisting individuals to explore and resolve ambivalence. The MI principles and techniques can be used by career counsellors to work effectively with clients who experience fluctuating levels of motivation.
Why You Should Attend
Do you work with clients who:
Have mixed feelings about changing?
Lack confidence that they can change?
Seem to be "at war" within themselves; who cycle between uncertainty about wanting to change and the need for immediate change
Talk about change but don't follow through?
Research has shown the MI approach to be helpful with a wide spectrum of client populations and issues. In this webinar series, you will be introduced to techniques that are helpful for incorporating MI into career counselling, including strategies to elicit and strengthen motivation for career change.
Be introduced to two modalities: MI & Equipoise and learn which is the most appropriate model to use with ambivalent clients
Receive an effective "tool" that practitioners can use with ambivalent clients
Learn how ambivalence impacts behaviour change
Learn how to avoid common pitfalls that "pause" the change process
Continue to explore pitfalls that "pause" the change process
Learn the triad of ambivalence
Learn how to give information in a MI-adherent manner
Learn how client language falls in to 3 different categories and strategies to maneuver through each category
Be introduced to the 4 processes of Motivational Interviewing and how practitioners' transition through each process
Learn specific strategies that are used to evoke behaviour change in the evoking process
Be introduced to the micro-skills used in motivational interviewing

Roxanne Sawatzky is one of a handful of MINT Certified Trainers in the world. She has shared her MI knowledge and expertise through keynote presentations internationally, including the Cannexus National Career Development Conference. She has co-authored the peer-reviewed article: "Motivational Interviewing to Promote Employment in Ambivalent Individuals," Journal of Employment Counseling, 2019. Roxanne returns after having led several very popular early CERIC webinar series around Motivational Interviewing. She now brings knowledge and experience working with dozens of career services organizations across Canada in applying MI to their work.
Cancellation Policy
Requests for cancellation(s) must be made by emailing your request to webinars@ceric.ca. Cancellation requests must be received before 5:00 pm ET 2 business days prior to the webinar date. NO REFUNDS are granted after this point. An administrative fee of 10% will be deducted from any paid webinar registration. Refunds will be issued within two weeks after receipt of the written notice.
Delegate substitutions are permissible. Please notify us at webinars@ceric.ca if you intend to transfer your registration to another person. Supply us with that person's name and contact information including their email address. The substitute delegate will be required to pay any difference in registration rate. If a technical failure at the attendee's home or workplace prevents access to the live webinar, the attendee will not be given a refund. It is the responsibility of the attendee to confirm system requirements and test their computers prior to the start of the webinar.