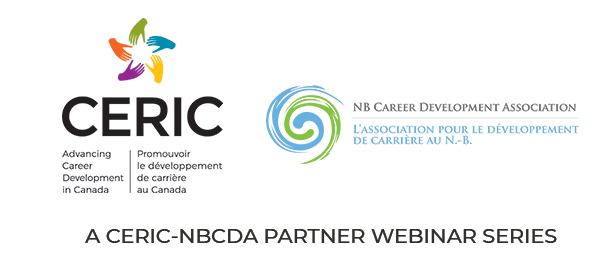 Webinar Series: Looking Beyond Job Titles: How to Prepare People for the Future of Work – September 25 & October 2, 2018 with JP Michel and the NB Career Development Association
Presenter: JP Michel
Date and Time:
Tuesday, September 25, 2018, 12:00 pm – 1:00 pm ET
Tuesday, October 2, 2018, 12:00 pm – 1:00 pm ET
Cost:
Full Series NBCDA Member: $75 ($CAD)
Full Series Non-Member: $97 ($CAD)
In addition to access to the live webinars, all registered participants will receive a password-protected video recording of each session, available for one week from its live broadcast date in case you miss one.
Economic, technological and societal changes are making the concept of job titles obsolete. To prepare people for the new world of work, career practitioners need to move away from considering only the traditional list of jobs and careers, and direct their attention to the challenges, problems and opportunities that exist in the world.
One approach that moves us away from focusing on jobs is the Challenge Method. This approach helps people see the bigger picture: the challenges, problems and opportunities that exist in society and the world of work. Career practitioners can use the Challenge Method to:
Prepare high school students to explore the world of work and choose an education program
Equip jobseekers with a focused, "problem-solving" approach to their job search and application
Get professionals promoted by helping them to identify and solve problems within their current organizations
Enabling this shift from identifying job titles to using the Challenge Method will allow clients to approach the new world of work in a more effective way and yield greater results from their career development efforts.
Webinar #1: A New Approach to Career Development
Tuesday, September 25, 2018  12:00 pm – 1:00 pm ET
Integrate a new approach, the Challenge Method, to help clients identify challenges they want to work on
Explore the connection between human resources and career development, including the evolving "success profile" used for hiring, onboarding and training
Describe important work challenges and discover how these will generate work opportunities
Review examples of clients who have successfully used the Challenge Method to advance their careers
Discover tools that can help you integrate the Challenge Method in your work
Webinar #2: Transforming Your Clients into Challenge Researchers
Tuesday, October 2, 2018  12:00 pm – 1:00 pm ET
Identify areas of your practice where you could use information about the future of work
Refine your process for identifying, researching and solving challenges
Leverage exercises to transition clients from being "job applicants" to being "challenge researchers"
Integrate the Challenge Method into a broader career development process, including self-awareness exercises and how they connect with challenges
Learn about the most frequently asked questions about the Challenge Method

JP Michel founded SparkPath to change the way we prepare people for their careers. His work in human resources consulting helped him learn about career success from some the world's largest organizations. JP has an MSc in industrial-organizational psychology from the University of Manchester and is the recipient of the 2017 Outstanding Career Professional award from the Career Professionals of Canada. JP was a keynote speaker at the 2017 Ontario School Counsellor Association's conference and is the creator and host of Rogers TV's Ta carrière, ton histoire, a French-language television show about the future of work. He developed the Challenge Method to integrate a market-driven, problem-solving approach into career development. It has been used by companies, elementary schools, high schools, colleges and universities, and employment centres across North America.
Cancellation Policy
Requests for cancellation(s) must be made by emailing your request to registration@ceric.ca. Cancellation requests must be received before 5:00 pm ET 2 business days prior to the webinar date. NO REFUNDS are granted after this point. An administrative fee of 10% will be deducted from any paid webinar registration.
Refunds will be issued within two weeks after receipt of the written notice.
Delegate substitutions are permissible. Please notify us at registration@ceric.ca if you intend to transfer your registration to another person. Supply us with that person's name and contact information including their email address. The substitute delegate will be required to pay any difference in registration rate.
If a technical failure at the attendee's home or workplace prevents access to the live webinar, the attendee will not be given a refund. It is the responsibility of the attendee to confirm system requirements and test their computers prior to the start of the webinar.