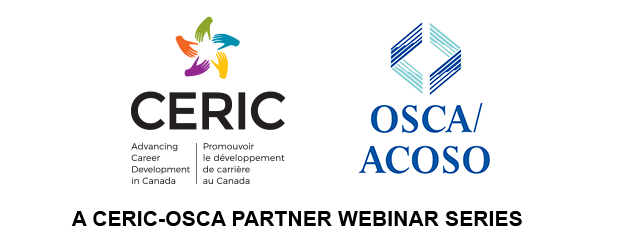 Webinar Series: Shifting the Trajectory for Black Students: The Role of School Counsellors in Supporting Positive Outcomes for Black Students – November 25 & December 2, 2020 with Nicole Baxter-Lyn, Kamilah Clayton and OSCA
Presenters: Nicole Baxter-Lyn and Kamilah Clayton
Language: English
Date & Time:
Cost:
Full Series OSCA-Member: FREE
Full Series Non OSCA-Member: $99
Official Webinar Series Sponsor
This webinar series is generously sponsored by the Ontario School Counsellors' Association (OSCA). Thanks to their contribution, the series is offered to you at a discounted rate for non-OSCA members and for free if you are a member of OSCA! Learn more about OSCA, including how to become a member.
Overview
The global social justice movement for Black Lives has amplified the need for systems around the world to acknowledge the ways in which Anti-Black Racism in its many forms impacts the health and well-being of people of African descent/heritage; this includes the education system. Black students' academic achievement is not only contingent on having access to quality education, but also feeling seen, heard and valued in their school environment. School counsellors play a pivotal role in supporting Black students' sense of connectedness to their school community, and in setting students up for academic and professional success beyond their elementary and secondary school experiences. By attending the webinars, participants will engage in a series of scaffolded learning related to anti-Black racism in alignment with Dr. George Sefa Dei's 10 Guiding Principles of Anti-Racism Education with an emphasis on disrupting marginalizing practices within guidance. This series will be of interest to any professionals working with Black youth in education or community settings.
Why You Should Attend
In spite of 400 years of global resistance to enduring dehumanizing practices targeting members within the Black pan-African diaspora community, disparities and disproportionalities within Canadian education for Black students continue to persist as noted by Black Canadian scholars such as Dr. Carl James in his 2017 Towards Race Equity in Education report. By attending this webinar series, current and prospective guidance counsellors as well as other educators and career practitioners, will learn how to approach guidance using an anti-racist, healing-informed approach to supporting Black students. Participants will develop an understanding of how to use an Identity Affirming Approach to supporting positive academic experiences and outcomes for Black students/students of African descent.
This inaugural webinar will provide some foundational knowledge pieces that address the following:
An overview of anti-Black racism
An in-depth review of "race" as a social construct
The impact/social effect of race
A review of how guidance continues to uphold anti-Black racism
This second webinar will continue the conversation on how to make school and education more inclusive and will cover the following:
How biases and assumptions influence supports offered to Black students
How schools can be sites of trauma or places of healing and support
How using an Identity Affirming framework can set students up for success, and the role of school counsellors in supporting Identity Affirming Learning Environments
An opportunity to use African Centred principles to develop a practice framework

Nicole Baxter-Lyn (OCT, BSc., BEd, MEd) is the co-founder and Vice-President of The Canadian Multicultural LEAD Organization for Mentoring or Training. Currently, she is a Provincial Equity Leadership Facilitator and she is also the Equity Teacher Facilitator Co-ordinator who oversees a team of anti-racist, anti-oppression consultants within the York Region District School Board.

Kamilah Clayton is a Registered Social Worker and psychotherapist, with over 10 years' experience working with children, youth and families in multiple settings. Kamilah utilizes an Identity Affirming approach to mental health and wellness for people of African descent/heritage, and her practice areas include: anxiety, depression, stress and racial identity.
Cancellation Policy
Requests for cancellation(s) must be made by emailing your request to webinars@ceric.ca. Cancellation requests must be received before 5:00 pm ET 2 business days prior to the webinar date. NO REFUNDS are granted after this point. An administrative fee of 10% will be deducted from any paid webinar registration. Refunds will be issued within two weeks after receipt of the written notice.
Delegate substitutions are permissible. Please notify us at webinars@ceric.ca if you intend to transfer your registration to another person. Supply us with that person's name and contact information including their email address. The substitute delegate will be required to pay any difference in registration rate. If a technical failure at the attendee's home or workplace prevents access to the live webinar, the attendee will not be given a refund. It is the responsibility of the attendee to confirm system requirements and test their computers prior to the start of the webinar.