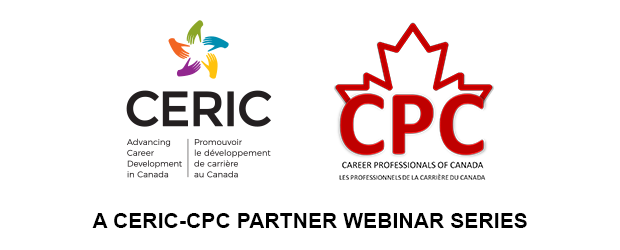 Webinar Series: The Wellness Paradigm: Preventative Self-Care Techniques to Help Career Professionals & Their Clients Succeed in the 'New Normal' – September 22, 29 & October 6, 2020 with Wayne Pagani, Carol Brochu, Michelle Precourt and Career Professionals of Canada (CPC)
Presenters: Wayne Pagani, Carol Brochu & Michelle Precourt
Language: English
Date & Time:
Cost:
Full Series CPC-Member: $119
Full Series Non CPC-Member: $159
Presenters Wayne Pagani, Carol Brochu & Michelle Precourt share their insights on why you should attend this webinar series.
Overview
Recent research has shown the impact of career development on overall mental health and the key role that career practitioners can play in improving their clients' well-being.
But as the career practitioner, who is looking after our well-being?
Now more than ever, it has become critical to look at our own wellness to prepare us to better support and serve our clients through continuing uncertainty.
This webinar series will provide tools, resources and methodologies using a multi-disciplinary wellness approach that addresses managing the stress of the unknown in our future or our "new normal" resulting from the recent pandemic.
We will create a safe space empowering career practitioners to effectively role model wellness. We will share tools to develop resilience and coping strategies, maintaining our sense of calm as we build hope for our clients on their career journey.
Why You Should Attend
You will be provided with an enhanced understanding about why wellness is a critical element of any career development practice and be introduced to ways to self-assess as well as assess the wellness of your clients.
More importantly, you will practice simple yet effective hands-on methods that you can immediately apply to your own wellness quotient through preventative self-care techniques.
As a participant you will leave with a toolkit for nurturing health using a prevention model. This equates to better personal wellness and a greater understanding about ways to support the well-being of your clients.
Our three presenters bring a rich and diverse set of education, training and personal experience in different disciplines of wellness. Their goal is to highlight the correlation between career development practices, career practitioners' personal discipline, and client wellness providing a more holistic approach to career development.
Learn about the role self-care plays when you have a wellness strategy for self-care that starts while one is healthy, instead of waiting until we are in crisis or distress
Complete a wellness self-assessment that can be used anywhere anytime
Gain insights into the significant role that wellness plays for career practitioners and their clients to manage stress
Understand and differentiate between preventive practices and crisis mitigation methods
Have the opportunity to practice simple self-care techniques
Be introduced to three stress/health/wellness models to more easily engage in the wellness conversation
Taking a time out and going "within"
Using a Perceived Stress scale to better understand and work with the various stressors in our life. Tools to help clients identify their external stressors
The mind body connection, knowing your own capacity, reactions, emotions (fears/anxiety) and triggers. (Body scan)
Introducing a process to become non-reactive. Training ourselves to Act not Re-act
Mindfulness and the present moment. Paying attention and mindfully dealing with thoughts and patterns
Being authentically you
How to assess your clients readiness for a wellness shift
Knowing when to support your clients and when to refer out
How to support your clients on their wellness journey; prevention vs reaction
Learn mindfulness techniques (calm the mind, settle worries) that you can incorporate into your practice and with your clients today
Leave with wellness tools and resources that will support the ongoing development of your practice and clients

Wayne Pagani, CCDP, brings 24 years' experience in career and workforce development, serving clientele through W.P. Consulting & Associates. He is also a Member and Senior Advisor of Career Professionals of Canada, a certified yoga instructor, Associate with CRG, and Qualified Lumina Spark & MeFirst practitioner. This is complemented by his training in addictions with the AIA, Trauma Informed Yoga, Road to Mental Readiness (R2MR) and First Aid for Mental Health.

Carol Brochu, CHRL, combines a 30+ year career in HR, operations & client service with a unique personal and spiritual development journey that has included studies in various forms of humanities, psychology, energy work and self-care disciplines. She is a certified yoga and martial arts instructor, mindfulness facilitator and MeFirst practitioner.

Michelle Precourt, CPHR, spent 15 years working in human resources and found yoga to be a good way to decompress. She has studied various meditation styles and became a certified yoga instructor in 2017. As a Career Coach and HR Consultant she offers mindfulness techniques for better client interview performance and workplace success.
Cancellation Policy
Requests for cancellation(s) must be made by emailing your request to webinars@ceric.ca. Cancellation requests must be received before 5:00 pm ET 2 business days prior to the webinar date. NO REFUNDS are granted after this point. An administrative fee of 10% will be deducted from any paid webinar registration. Refunds will be issued within two weeks after receipt of the written notice.
Delegate substitutions are permissible. Please notify us at webinars@ceric.ca if you intend to transfer your registration to another person. Supply us with that person's name and contact information including their email address. The substitute delegate will be required to pay any difference in registration rate. If a technical failure at the attendee's home or workplace prevents access to the live webinar, the attendee will not be given a refund. It is the responsibility of the attendee to confirm system requirements and test their computers prior to the start of the webinar.