Séminaires d'été, juillet 13 2016 – TOUT VENDU!
Juillet 14 2016 – RÉCEMMENT AJOUTÉ!

SUMMER SKILLS ACADEMY 2016 – Held over!
Constructing Careers in the Digital Age with Mark Savickas
Day 1 has sold out so we have added a second day for this hugely popular session – Thursday, July 14, 2016.
NOTE: A minimum of 10 participants is required before this second session can proceed. Until such time as 10 registrations are reached, please treat this training day as tentative. As soon as we reach the minimum of 10 registrations, we'll send an email confirming the event. Should we not reach 10 registration by 5 pm ET on 13 June 2016, the second session will be cancelled and your registration fees will be refunded in full.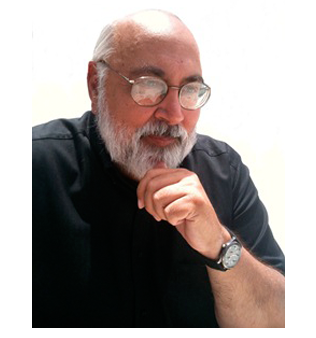 MARK L. SAVICKAS, PhD
Mark Savickas is Adjunct Professor of Counselor Education at Kent State University. He also currently serves as Professor Extraordinaire at the University of Pretoria (South Africa) and Visiting Professor in the Institute for Employment Research at the University of Warwick (United Kingdom). His 90 articles, 50 book chapters and 500 presentations have dealt with vocational behaviour and career counselling. He has received honorary doctorates from the University of Lisbon (Portugal) and the University of Pretoria (South Africa). He is a fellow of the American Counseling Association, American Psychological Association, the American Psychological Society, and the National Career Development Association.
Overview
Many counsellors are innovating their practices by shifting concentration from fostering career development to designing lives. This shift in practice has been prompted by changes in the social organization of work and occupations. To respond to these changes, some counsellors have turned to narrative models and methods for self-construction and identity shaping because this approach emphasizes life design rather than occupational choice.
Looking at lives as novels being written focuses attention on the themes that activate and characterize individuals in both the work and partnership/family domains. From this narrative perspective, vocational interests are solutions to problems that people have experienced and work is an opportunity to actively master what has been passively suffered.
This narrative approach to career counselling enables clients to fit work into their lives, rather than fit themselves to jobs. Thus, psychosocial mattering replaces occupational congruence as the goal of advising and counselling.
This one-day training session will discuss and demonstrate practical techniques for using stories and articulating life themes to foster educational and career decision-making. Participants will learn how to integrate these techniques into their ongoing practice and may even use the techniques to better understand why they became advisors and counsellors and how their occupations allow them to advance their own life stories.
Goals
Participants will be able to differentiate among vocational guidance, career coaching and career counselling.
Participants will learn the conceptual model for the career intervention called Life Design Counselling.
Participants will practice the methods for Life Design Counselling.
Participants will complete the workbook entitled "My Career Story" and evaluate its usefulness.
Participants will engage with the presenter in a live demonstration of Life Design Counselling
Participants will apply the interpretive framework for the Career Construction Interview to the live demonstration.
Rates
$195 Early Bird rate (register by May 10, 2016 – midnight ET)
$245 Regular rate (register after May 10, 2016)
Save by making it a team event!
If 2 or more of you attend from the same organization and register at the same time, you can save 10%. During Early Bird you would pay only $176 each!
Schedule and Meals
The workshop will start at 8:30 am and will run until 4:00 pm. The schedule for the day is as follows: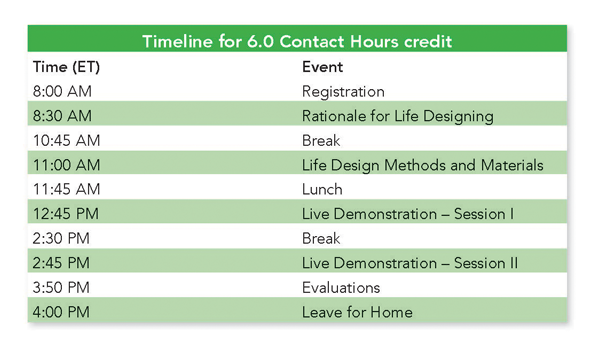 Breakfast and lunch are included as are mid-morning and mid-afternoon refreshments. When you register you will be given an option to notify us of any dietary issues. We work closely with the caterer to ensure that all reasonable requests are met but this is not always possible. We thank you in advance for your understanding.
Location
The training will be taking place at the CERIC office at Foundation House in midtown Toronto. The office is located at 2 St Clair Avenue East, Suite 300, Toronto, ON. The St Clair subway station is in the basement of the building. Note that if you use the subway, the escalator to the building is towards the front of the train when you exit.
Hotels
CERIC has not negotiated any rooms but the following hotels are relatively close to the CERIC office:
Note that there are lots of festivals taking place in Toronto, so rooms are filling up – if you plan to attend – book your room early!
Parking

There are a number of Green P parking lots located near the CERIC office. They are:
21 Pleasant Avenue (Carpark 11) – $2 per half hour, maximum of $10 per day
20 Delisle Avenue (Carpark 13) – $2 per half hour, maximum of $13 per day
1501 Yonge Street (Carpark 223) – $2.50 per half hour, maximum of $20 per day
30 Alvin Avenue (Carpark 12) – $2.50 per half hour, maximum of $22 per day
Testimonials
Here's what your colleagues had to say about last year's Summer Skills Academy…
Support Persons Policy
The registration fee for any person who is considered to be a support person accompanying an attendee with a disability will be waived.
Scent Free Policy
In response to health concerns, CERIC wishes to limit the use of scented products at its events. Scented products such as hair sprays, perfume and scented deodorants may trigger reactions such as respiratory distress and headaches. In consideration of others, people attending the event are asked to limit or refrain from using scented products. Your co-operation is appreciated.
Cancellation Policy
It is regrettable that you are unable to attend due to unforeseen circumstances. Although we sympathize please note that we have a cancellation policy that helps us cover fixed costs due to non-attendance, regardless of circumstance (food and beverage orders and transaction costs associated with your registration – none of these can be altered so there are real costs involved).
Requests for cancellation(s) must be made by emailing your request to registration@ceric.ca. Cancellation requests must be received before June 30, 2016 at 5:00 pm ET. NO REFUNDS are granted after this date.
An administrative fee on a sliding scale will be deducted from any refund for a Summer Skills registration as follows:
20% fee for cancellations requested by May 10, 2016, 5:00 pm ET
30% fee for cancellations requested by June 30, 2016, 5:00 pm ET
Refunds will be issued within two weeks after receipt of the written notice.
Delegate substitutions are permissible. Please notify us at registration@ceric.ca if you intend to transfer your registration to another person. Supply us with that person's name and contact information, including their email address.
Questions
For any questions, please contact Susan Phillips, CERIC Conference & Events Manager at susan@ceric.ca or 416.929.2510 x126.