Série de webinaires : Measuring and Managing Performance-Based Outcomes in Post-Secondary Career Centres – 10 novembre, 17 novembre & 22 novembre 2016 avec Sarah Delicate et la Canadian Association of Career Educators and Employers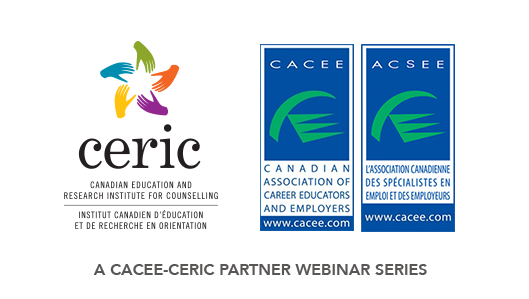 Presenter:
Sarah Delicate
Date and Time: 
Thursday, November 10, 2016
12:00 pm – 1:00 pm ET
Thursday, November 17, 2016
12:00 pm – 1:00 pm ET
Tuesday, November 22, 2016
12:00 pm – 1:00 pm ET
Cost:
Full Series CACEE Member: $119
Full Series Non-Member: $159
In addition to access to the live webinars, all registered participants will receive a password-protected video recording of each session, available for two weeks from its live broadcast date in case you miss one
Post-secondary career services are under increased pressure to demonstrate value, justify their service, and align to the needs of the broader institution, whether a university or college. Combined with a greater demand for accountability and transparency, there has never been a more important time to measure and manage the performance of career services.
However, measuring the performance of post-secondary career centres is not an easy task. How can I possibly be held "accountable" for employment outcomes when I don't control the labour market, I don't control employers, I don't control post-secondary course offerings, and I certainly do not control the individual motivation and skill levels of jobseekers!
But isn't that our service promise? Shouldn't those who come to our service have a greater chance of success then those who do not come? If I cannot demonstrate this influence, how can I demonstrate value?
As an expert in performance measurement in the employment sector, Sarah Delicate will tackle some of the tough questions regarding performance measurement in post-secondary career centres. In this "no-fluff" three-part webinar series, Sarah will share the essentials of performance measurement using practical and tested examples from the broader sector.
Session #1: Performance Measurement and Management Frameworks (PMMF) – What Are They and Why You Need One
Thursday, November 10, 12:00 pm – 1:00 pm ET
Topics will include:
Understanding the basics of PMMF – pros and cons
How PMMFs are used by post-secondary administrators, government policymakers and other stakeholders
How PMMFs can help you achieve success (while maintaining integrity)
Session #2: How to Build Your PMMF: Figuring Out What to Measure and How to Measure It
Thursday, November 17, 12:00 pm – 1:00 pm ET
Topics will include:
How to identify what is important, not just to your superiors and stakeholders, but to your overall vision, mission and mandate (what do you believe in?)
Incorporating priority populations (marginalized students) into your PMFF
Determining which outcomes to measure and instruments you can use to measure them
Tips and traps in measurement strategies
Session #3: Implementing Your PMMF and Telling Your Performance Story Tuesday, November 22, 12:00 pm – 1:00 pm ET (this session is on a Tuesday)
Topics will include:
Integrating metrics into your everyday business practices/processes
Using your data – developing reports and business intelligence
Achieving transparency and preparing for the coming of "open data"
Telling your performance story to demonstrate value and gain support

Sarah Delicate is a renowned consultant, trainer and keynote speaker in the employment sector in Canada. Sarah has over two decades of experience working with 100s of employment centres and 1000s of employment professionals across Canada. As a consultant to policymakers, Sarah has an intimate understanding of what data is required to tell a performance story, as well as the systems required to make it all work. She is recognized for her realistic, values-based approach to human service measurement.
Cancellation Policy
Requests for cancellation(s) must be made by emailing your request to registration@ceric.ca. Cancellation requests must be received before 5:00 pm ET 2 business days prior to the webinar date. NO REFUNDS are granted after this point. An administrative fee of 10% will be deducted from any paid webinar registration.
Refunds will be issued within two weeks after receipt of the written notice.
Delegate substitutions are permissible. Please notify us at registration@ceric.ca if you intend to transfer your registration to another person. Supply us with that person's name and contact information including their email address. The substitute delegate will be required to pay any difference in registration rate.
If a technical failure at the attendee's home or workplace prevents access to the live webinar, the attendee will not be given a refund. It is the responsibility of the attendee to confirm system requirements and test their computers prior to the start of the webinar.