Webinaire gratuit : A Question of Style: What HR and career professionals need to know about "misunderstood" candidate groups such as veterans – 27 avril 2018 avec Lisa Taylor

Presenter: Lisa Taylor
Date and Time: Friday, April 27, 2018, 12:00 pm – 1:00 pm ET
Cost: FREE
All registered participants will receive a link to the recording of the webinar. So even if you unable to attend the webinar, you will still be able to access all the learning.
In April 2018, the Federal Government is launching new career transition programs and services for Canadian veterans, which has prompted new discussions about how to best assist veterans seeking civilian employment.
Challenge Factory has been working with Veterans Affairs Canada and the Canadian Armed Forces to quantify the challenges veterans face when seeking employment. The findings are surprising and highlight gaps in employer recruitment processes and veteran transition preparedness.
Using new, CERIC-supported research, Lisa Taylor will show in this free webinar how the challenges that veterans face serve as a good case study for all employers and career practitioners. Whether you currently hire or work with transitioning veterans, or not, this webinar will help you better understand where hiring managers get in their own way of finding top candidates and how career practitioners can better prepare misunderstood candidates to overcome recruitment obstacles.
What you will learn:
How unconscious bias about "cultural fit" in the recruitment cycle can be quantified and exposed
Identify how members of hidden talent pools (including but not limited to veterans) can combat unspoken assumptions that might otherwise limit hiring success
Gain specific insight into Canadian veteran civilian career transition as a case study of a hidden talent pool
Take a self-assessment to evaluate your own understanding of veterans as potential candidates and employees
How you can participate in the next phase of this research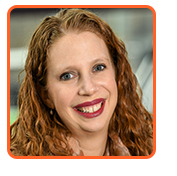 Lisa Taylor challenges outdated career thinking. Her company, Challenge Factory, is at the forefront of Future of Work-related research, consulting and training.
Lisa holds an MBA from York University. She is a Canadian Special Operations Regiment Association (CSOR-A) Board Member and Advisory Board Member for the Dean's Advisory Council, Raymond G. Chang School, Ryerson University. She authored Retain and Gain: Career Management for Small Business and is working on four new publications.