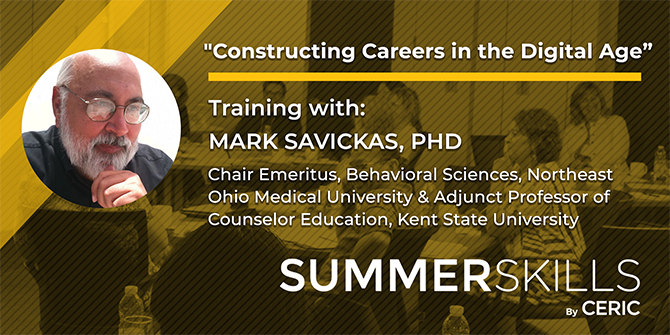 SEMINAR DETAILS
Many counsellors are innovating their practices by shifting concentration from fostering career development to designing lives. This shift in practice has been prompted by changes in the social organization of work and occupations. To respond to these changes, some counsellors have turned to narrative models and methods for self-construction and identity shaping because this approach emphasizes life design rather than occupational choice. Looking at lives as novels being written focuses attention on the themes that activate and characterize individuals in both the work and partnership/family domains. From this narrative perspective, vocational interests are solutions to problems that people have experienced and work is an opportunity to actively master what has been passively suffered. This narrative approach to career counselling enables clients to fit work into their lives, rather than fit themselves to jobs. Thus, psychosocial mattering replaces occupational congruence as the goal of advising and counselling. This seminar will discuss and demonstrate practical techniques for using stories and articulating life themes to foster educational and career decision making. Participants will learn how to integrate these techniques into their ongoing practice and may even use the techniques to better understand why they became advisors and counsellors and how their own occupations allow them to advance their own life stories.
LEARNING OUTCOMES
Participants will:
Be able to differentiate among vocational guidance, career coaching and career counselling
Learn the conceptual model for career intervention called Life Design Counselling
Practice the methods for Life Design Counselling
Complete the workbook entitled "My Career Story" and evaluate its usefulness Engage with the presenter in a live demonstration of Life Design Counselling
Apply the interpretive framework for the Career Construction Interview to the live demonstration
CONTINUING EDUCATION CREDITS
Looking for CECs to keep up your professional designation? If you are a member of an association and require a letter of attendance, email sandra@ceric.ca after the seminar. We will provide you with a letter of attendance for 5.5 professional development hours.
SEMINAR LEADER


Mark Savickas, PhD, is professor of Family and Community Medicine at the Northeast Ohio Medical University and Adjunct Professor of Counselor Education at Kent State University. He also serves as Professor Extraordinaire at the University of Pretoria (South Africa) and Visiting Professor, Institute for Employment Research, University of Warwick (England). Previously he served as a Visiting Professor in the Department of Organizational Behavior in the School of Business at Loughborough University (England), the psychology faculties at Vrije University (Belgium), and the Faculty of Education and Psychology at the University of Lisbon (Portugal). His 90 articles, 50 book chapters and 500 presentations to professional groups have dealt with vocational behaviour and career counselling.  He is currently Past-President of the Counseling Psychology Division in the International Association of Applied Psychology.  He has served as editor for the Career Development Quarterly (1991-1998) and the Journal of Vocational Behavior (1999-2016).
He has received the John L. Holland Award for Outstanding Achievement in Career and Personality Research (1994) and the Leona Tyler Award (2011) from the Counseling Psychology Division (17) of the American Psychological Association as well as the Eminent Career Award (1996) from the National Career Development Association. He is a fellow of the American Counseling Association, American Psychological Association, the American Psychological Society and the National Career Development Association. He has received honorary doctorates from the University of Lisbon (Portugal) and the University of Pretoria (South Africa).
TESTIMONIALS
Mark's Summer Skills seminar sold out in 2016. Here's what participants had to say…
QUESTIONS
If you have any questions, please contact Sandra Francescon, Conference & Event Manager, at sandra@ceric.ca or 416 929 2510 x126.