This free webinar series offer the opportunity to further explore the career theories and models compiled in CERIC's book Career Theories and Models at Work: Ideas for Practice. Webinars are led by the contributing authors to the book. More webinars (English and French) presented by the authors of the book will be added to the series soon!
Overview
When it comes to career choices, we often face clients who have difficulty in narrating their career autobiography and their futures professional inspirations. In this free webinar, Michael Healy will develop the theory behind the career autobiography writing exercise outlined in his chapter called My Career Chapter. My Career Chapter, like career writing in general, is grounded in theory and evidence and has the potential to promote true transformational career learning for the client. This is a qualitative career assessment and counselling tool based on dialogical self-theory (DST) in which clients articulate and mediate I-positions through creative, expressive and reflective writing.
Dialogical self-theory (DST) frames the self as a society of mind comprising a multiplicity of I-positions in dialogue with each other. In difficult times, I-positions conflict with or oppose each other and dialogues between them express self-doubt or self-criticism. DST also conceptualizes several kinds of supportive I-positions that can act as mediators and, when applied to career development theory and practice, provides a way to help people make sense of their career thoughts and cope with difficult experiences.
Webinar Learnings:
An introduction to dialogical self-theory, as it relates to career development theory and practice
An introduction to career writing and theoretical foundations of My Career Chapter
An overview of the process of using My Career Chapter with individuals and groups
An account of the evidence base of career interventions, which aligns with key principles of My Career Chapter
Michael Healy is a PhD candidate at the University of Southern Queensland, Australia. His research is focused on pedagogies of career learning in higher education. Michael is a member of the Australian Collaboratory for Career, Employability, and Learning for Living and the Career Development Association of Australia.
Overview
In this free webinar, Debra Osborn will explore Cognitive Information Processing (CIP) Theory from her chapter called Cognitive Information Processing Theory: Applying Theory and Research to Practice. The overall goal of CIP theory is to enhance individuals' decision-making and problem-solving skills for current and future career decisions.
Best practice in career service delivery is practice that is informed by theory, and the best theories are those that are informed by practice, and have the research to prove their effectiveness. This theory is very manageable for career practitioners as it identifies four key elements involved in making a career decision, and outlines a career decision-making process. CIP is accompanied by practical free resources that career practitioners can use with their clients to aid in the decision-making process. CIP has been in use for over three decades, and has multiple research studies validating various aspects of the theory.
Webinar Learnings:

Key elements involved in CIP theory
Components of the Pyramid for Information Processing Domain and resources for each
Specific steps in the CASVE Cycle
Research on the role of dysfunctional career thinking and strategies for managing these
Career Readiness and matching readiness to level of service delivery
Dr Deb Osborn is an Associate Professor in the Educational & Psychological Services Department at Florida State University. She is Past President of the National Career Development Association and a fellow of the American Counseling Association. Her research centres on application of CIP theory, technology & counseling and career assessments.
Overview
In this free webinar, Reinekke Lengelle will introduce you to Career Writing, co-developed with researcher Frans Meijers, and described in their chapter Poetic Creativity: The Career Writing Method for Professional Reflexivity in the 21st Century.
In an ever-complex, insecure and individualized society, being able to determine one's own career direction is both empowering and necessary. Matching models no longer suffice, and career choices aren't rational! This is one of the reasons that the best career advice might be wasted!
Career Writing is a narrative method of career learning. This playful writing method allows people to know themselves better and to become more resilient, self-directed and agentic. Poets might get a bad rap when it comes to career success, but their way of thinking and playing is exactly the kind of creativity that is useful for developing a career story that can set someone on a useful course.
Webinar Learnings:

What problems career writing aims to address in society (the why)
What career writing is – writing creatively, expressively and reflectively for career learning
Examples of how career writing can benefit individuals
Other applications for this form of writing that may also help clients and practitioners
A bit about the research behind this and about the creators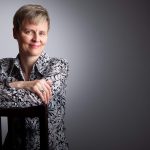 Reinekke Lengelle, PhD, is the co-creator of Career Writing. She is also an Assistant Professor of Interdisciplinary Studies at Athabasca University, a researcher with The Hague University of Applied Sciences, The Netherlands and a symposium co-editor of the British Journal of Guidance and Counselling. She began her career as a playwright, poet and writing teacher and focused her academic work on the topic of "Writing the Self" of which Career Writing is one important branch.
Reinekke developed Career Writing theory with her late husband Dr Frans Meijers. Their publications can be found at: www.writingtheself.ca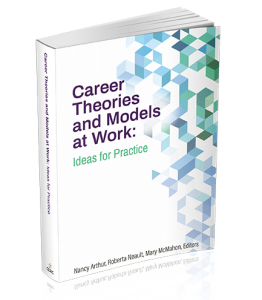 Career Theories and Models at Work: Ideas for Practice

CERIC's book Career Theories and Models at Work: Ideas for Practice is an international collection of contemporary and emerging career development theories and models that aims to inform the practice of career development professionals around the globe. It is also intended to be used as a text for undergraduate and graduate career counselling courses.
Contains 43 chapters on the theories and models that define the practice of career development today
Contributors are 60 of the leading career researchers and practitioners from four continents and nine countries: Australia, Canada, England, Finland, India, the Netherlands, New Zealand, South Africa and the United States
Featured authors include the original theorists and those who have adapted the work in unique ways to inform career development practice