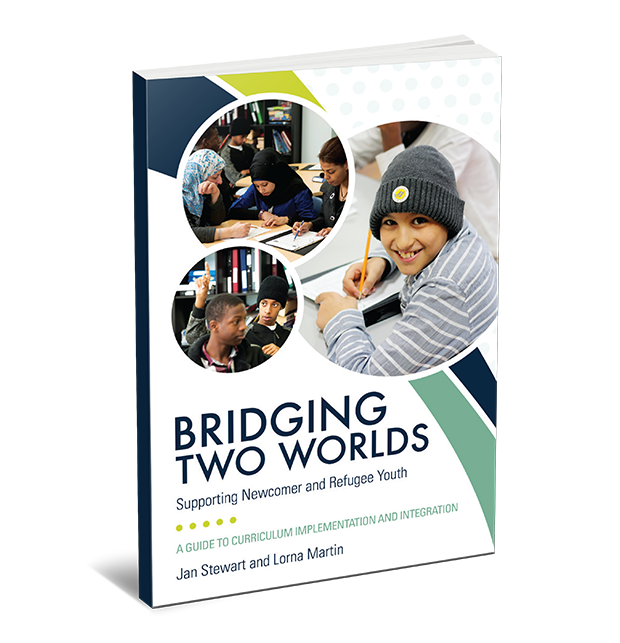 Bridging Two Worlds: Supporting Newcomer and Refugee Youth
| | |
| --- | --- |
| Author(s) | Dr Jan Stewart and Dr Lorna Martin |
| Publisher | CERIC |
| ISBN | 978-1-988066-27-1 |
Synopsis

Bridging Two Worlds provides teachers, school administrators and counsellors with the knowledge and practical resources to deliver more informed and culturally responsive career development and guidance to newcomer and refugee youth from Kindergarten to Grade 12. This book and the study upon which it is based grew out of the Canadian spirit of cultural diversity and inclusivity. Bridging Two Worlds offers data-informed curriculum development and instructional ideas that recognize and address educational gaps as well as cultural or experiential differences that impede progress.
In the first section, the book considers issues that relate to school-based learning and teaching. While not all newcomers to Canada face the cumulative effects of trauma, interrupted learning and new-language acquisition, all educators should be aware of how these affect human development and learning. The second section focuses on educator competency – preparing and training teachers and counsellors to work with newcomer and refugee children and youth. It includes relevant core competencies from the Career Development Guidelines and Standards of Practice and 30 sample lessons for educators. The book concludes with a section devoted to student learning outcomes for life/work development. Learning outcomes from the Blueprint for Life/Work Designs are provided with accompanying suggestions for instruction across all elementary and secondary grade levels.
Bridging Two Worlds: Supporting Newcomer and Refugee Youth

Size
3.08 MB
Last Updated
May 17, 2018
Download
---
Get Your Copy
About the Author
Dr Jan Stewart is a Professor in the Faculty of Education at The University of Winnipeg. With over 30 years of teaching, research and field experience, Dr Stewart has achieved expertise working with children and youth who have been affected by conflict, trauma, violence, abuse, mental health issues, neglect and human rights violations. She has led international research and teacher development programs in Zimbabwe, South Sudan and Uganda, and she has conducted national and international seminars and conferences around the world. She is the author of The Anger Workout Book for Teens, The Tough Stuff Series, The STARS Program and Supporting Refugee Children: Strategies for Educators.
Dr Lorna Martin is a President Emerita of the Canadian Counselling and Psychotherapy Association (CCPA) and has held positions in the Faculty of Education at both the University of Winnipeg and the University of Manitoba. She has supported counselling and psychotherapy initiatives for more than 25 years, consulting with health, justice and family services representatives. She is an author and editor of multiple books and resources focusing on counselling and psychotherapy, supervision, ethics, standards of practice, suicide prevention and postvention, and education.
Publishing of the Playbook was made possible in part by the generous contributions of Knowledge Champions.

In the News!
Bridging Two Worlds brings to bear the power of original research and the insight of its experienced authors on the crucial issue of educating newcomers. With the world witnessing an ever-growing number of refugees – many coming to our shores with expectations of a better life – education is the key. Equally, the new arrivals must learn about their new land and how they can make Canada a better place. Fortunately, this guide creates understanding and provides the tools that will enable the building of bridges to take place.
Grounded in solid research and underpinned by values of diversity and inclusivity, this timely publication is brimming with practical lesson plans and instructional resources. This is an absolute must-read for educators and others seeking to welcome and support newcomers and refugee families.
New Brunswick educators have benefitted from Dr. Stewart's work and we believe that her unique experiences, vast insight and depth of knowledge in this area is unparalleled in our country. The comprehensive information and data-informed materials, including lesson plans to build teacher capacity and case studies for analysis, will be essential resources for educational leaders across the country as they plan for their increasingly diverse classrooms and schools.
A well-researched and much-needed resource for educators and school counsellors who support newcomers and refugee youth. A must-have book for the toolkit of those working with newcomer and refugee youth or for those who need to understand this emerging career decision-making area.
Jan Stewart and Lorna Martin have written a comprehensive guide for cultural sensitivity in Canadian school systems. Bridging Two Worlds: Supporting Newcomer and Refugee Youth provides practical information that builds the capacity of teachers to support newcomers and refugees in the classroom. Organizations such as ours can use this guide as a resource to develop the core competencies needed for inclusive settlement work. I truly believe this well-written and informative book should be essential reading for government, teachers and settlement practitioners across Alberta and the country.
Bridging Two Worlds excels in clearly connecting research with practical, culturally responsive career development activities. It is a tremendous resource for deepening my own understanding as an educator and supporting learners with their career development.
Bridging Two Worlds is a well-written, articulate and comprehensive guide for all education professionals who work with newcomer and refugee children and youth. From creating a welcoming classroom to incorporating strategies like storytelling to career development planning, this resource covers all the bases in providing professionals a relevant and useful tool to help ensure the successful integration of this population of students. This book will become a staple resource for my team as we support our schools in their work with newcomer and refugee learners.
With the growing number of newcomer and refugee children and youth settling in Canada who have experienced trauma, this book represents an excellent resource to those current and future educators, settlement workers and healthcare practitioners who are working, or will be working, with such a vulnerable population. I recommend it highly.
 Bridging Two Worlds: Supporting Newcomer and Refugee Youth is an invaluable guide to curriculum implementation and integration based on a rigorous, three-year research program. Importantly, the guide includes 30 detailed lesson plans designed to foster core competencies to help teachers effectively address the needs of newcomer and refugee children and youth. These include a powerful "privilege walk" designed to heighten awareness of the social and economic inequality faced by newcomers. If you are interested in building culturally responsive bridges in the school system, this book will be an invaluable resource.
Empty section. Edit page to add content here.
Bridging Two Worlds: Supporting Newcomer and Refugee Youth is a much-needed volume that presents a Canadian research-based perspective on supporting the adjustment challenges and mental health needs of students from immigrant and refugee backgrounds. School administrators, guidance counsellors and teacher educators will especially appreciate the rich section of lesson plans to build teacher capacity in supporting newcomer and refugee students. Thoughtfully structured teacher development activities cover topics ranging from supporting the needs of students with interrupted learning and using restorative practices to support refugee students to looking at gaps among students created by privilege and fostering peace education. This book will be welcomed by all Canadian educators who want to better serve the needs of newcomer and refugee youth.