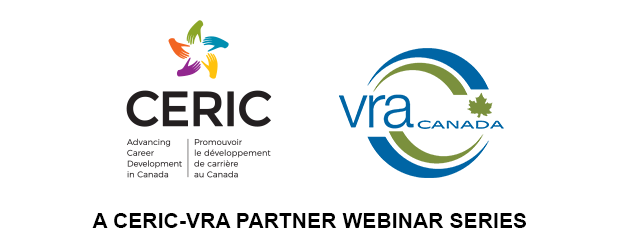 Webinar Series: Connecting Career Development and Mental Health: Practical Applications with Clients – September 30, October 7, 14 & 21, 2020 with Dave Redekopp, Michael Huston and VRA Canada
Presenters: Dave Redekopp and Michael Huston
Language: English
Date & Time:
Cost:
Full Series VRA-Member: $119
Full Series Non VRA-Member: $159
Overview
Career intervention is mental health intervention, yet most career development practitioners and organizations do not explicitly target, improve, measure or report mental health improvements achieved by their services. This oversight of an issue that is so prominently in the minds of the public, policymakers and funders is at our field's peril, especially in a post-COVID-19 world. Front-line career development practitioners and their managers/employers need to dive deeper in their understanding of how career development services contribute to mental health so that they can improve and communicate these outcomes whether working remotely or face-to-face.
Why You Should Attend
The series comes in response to a popular webinar delivered earlier this year by our experts Dave & Michael and will deepen the impacts and strategies career practitioners can implement right away to help their clients strengthen mental health. The series will dig into definitions, a career development effects framework, a stress intervention model, measurements as well as actionable strategies. In particular, the series addresses specific skills that most practitioners possess and how to use them effectively in service of client mental health. This webinar series will help practitioners and their managers recognize, improve, evaluate and communicate the mental health impact of their work, all within ethical, professional and role boundaries.
NOTE: The instructional component of each webinar will be one hour. For participants who can stay longer, a Q&A session will extend for an additional 15 minutes beyond the hour. Of course, if you miss it, the full recording will be available to registered participants.
Career development practice influences mental health directly and indirectly regardless of practitioners' intentions regarding mental health. This session will reveal how career interventions, including career counselling, career education, guidance services and work search supports, contribute to mental health. Specifically, this webinar will address:
Understand the differences and connections between mental health and mental illness
Learn from research showing the interactions between career development, work, mental health and mental illness
Apply the Career Development Effect Model and understand the main sets of outcomes produced by career development interventions
Recognize new ways in which practitioners can immediately begin improving the mental health impact of their work
Different career development interventions contribute to mental health in distinct ways. Common to all career development intervention, however, is its role in helping clients manage stress. This webinar will:
Show the relationship between stress and mental health
Describe the three main ways that practitioners can help clients manage stress
Show how practitioners can do so within their ethical, professional and role boundaries.
Emphasize the most important of these three stress control areas in career development work – the development of coping competence – likely the most overlooked intervention strategy in the mental health movement
This webinar will show you how to intentionally use your interpersonal skills to achieve both career development and mental health outcomes for your clients. This webinar will cover:
The key interpersonal skills needed for effective intervention
The most overlooked yet powerful skills in career development intervention
How to use these skills to incorporate mental health outcomes in career development practice while also improving career development outcomes
How to work within ethical and professional boundaries while incorporating mental health awareness and outcomes
Demonstrations of the use of these skills and paths for practice and mastery will be included.
The many contributions that practitioners make to client mental health have gone largely unnoticed by practitioners, their employers, funders and policymakers. Practitioners and their organizations have not tracked this impact, largely because funders have not required them to. Funders do not know what practitioners know, and this needs to change. This session will review:
Straightforward and practical ways by which front-line practitioners, their teams and their organizations can immediately begin measuring mental health outcomes
How to use measurement data to communicate key messages to stakeholders
Which stakeholders these outcomes should be communicated to and how
Communication tools and strategies that you can modify for your own purpose
What people are saying about Dave & Michael's webinar held this spring?

Dave Redekopp is President of the Life-Role Development Group Ltd. and has been an avid champion of career development since 1988. He has received provincial and national awards in career development and is widely recognized in Canada as a thought leader in the field. Dave holds a PhD in Educational Psychology from the University of Alberta.

Michael Huston has been involved in the career development field as a counsellor, practitioner, trainer and counsellor educator since the early 1990s. He is a Registered Psychologist, Counsellor and Associate Professor at Mount Royal University in Calgary, where he provides counselling addressing personal, educational and career-related concerns.
Cancellation Policy
Requests for cancellation(s) must be made by emailing your request to webinars@ceric.ca. Cancellation requests must be received before 5:00 pm ET 2 business days prior to the webinar date. NO REFUNDS are granted after this point. An administrative fee of 10% will be deducted from any paid webinar registration. Refunds will be issued within two weeks after receipt of the written notice.
Delegate substitutions are permissible. Please notify us at webinars@ceric.ca if you intend to transfer your registration to another person. Supply us with that person's name and contact information including their email address. The substitute delegate will be required to pay any difference in registration rate. If a technical failure at the attendee's home or workplace prevents access to the live webinar, the attendee will not be given a refund. It is the responsibility of the attendee to confirm system requirements and test their computers prior to the start of the webinar.