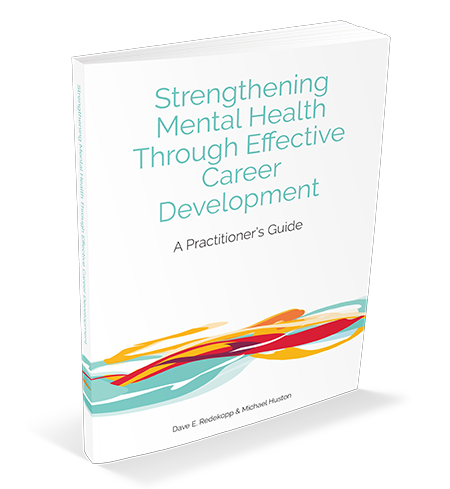 | | |
| --- | --- |
| Author(s) | Dave E. Redekopp and Michael Huston |
| Publisher | CERIC |
| ISBN | 978-1-988066-45-5 |
Synopsis

This book makes the case that career development practice is a mental health intervention and provides skills and strategies to support career development practitioners in their work. It explores how practitioners do far more than help people prepare for, enter and navigate career pathways – they change people's lives in ways that improve mental health and overall well-being. The authors also emphasize their focus is mental health, not mental illness, and address this distinction in the book.
The guide shows how to connect career development services to clients' mental health while working ethically and within the boundaries of competence and role. It includes a focus on evaluating the mental health impact of career services and communicating these outcomes to stakeholders.
Practitioners will be equipped to:
improve their career development services,
broaden their view of client concerns to include well-being outcomes as part of a whole-person approach to career/life planning,
and strengthen their collaboration with healthcare service providers.
Written primarily for career development practitioners, namely those who help clients or students, this resource is also of use to the supervisors and managers of career practitioners. Researchers and academics will find a robust and testable model of career development and mental health relationships.
About the Authors
Based in Edmonton, Alberta, author Dave Redekopp is the national award-winning President of Life-Role Development Group Ltd. He has devoted more than 30 years to the development of better career development and workplace concepts and practices.
Co-author Michael Huston is a long-standing associate at Life-Role Development Group as well as a career development practitioner, and Associate Professor and Counsellor at Mount Royal University in Calgary, Alberta.
Publishing of the Guide was made possible in part by the generous contributions of Knowledge Champions.