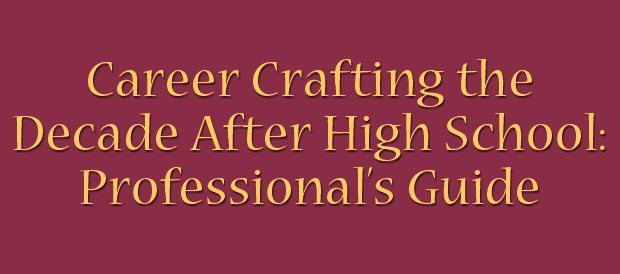 Project Partner: Cathy Campbell and Peggy Dutton
The Stories of Transition research project was funded by CERIC to gain a deeper understanding of the educational and occupational pathways taken by high school graduates. As part of the research, one hundred young people in four different Canadian sites were interviewed in 2007-2008: Prince Edward Island, Halifax, Guelph, and Calgary. The sample included youth between the ages of 23 and 30 who had taken a variety of educational and occupational pathways after graduating from high school.
The research highlighted the reality that it is common for young people to spend many years after high school experimenting with post-secondary education programs and jobs, trying to figure out what constitutes satisfying work. It also identified five strategies (navigating, exploring, drifting, settling, and committing) that young people use in their search for a satisfying career and a host of internal and external influences that either constrain or facilitate their journeys. Two popular publications were developed from the findings that emerged from the research: The Decade After High School: A Professional's Guide and The Decade After High School: A Parent's Guide.
This project is undertaking a substantive revision of the professional's guidebook to ensure that it continues to be relevant for professionals in the career development field who work with young people.
The objectives for the project are:
To examine how changes in external factors since 2008 have impacted the strategies that young people use to find a career-related place.
To help career practitioners understand more fully the contingent nature of young people's career pathways in the decade after high school graduation.
To provide strategies to career practitioners when working with young adults, particularly in relation to helping them be proactive in the face of uncertainty.
Career Crafting the Decade After High School Professional's Guide webinar
Knowledge Champions
Our special thanks to the following Knowledge Champions for their leadership: