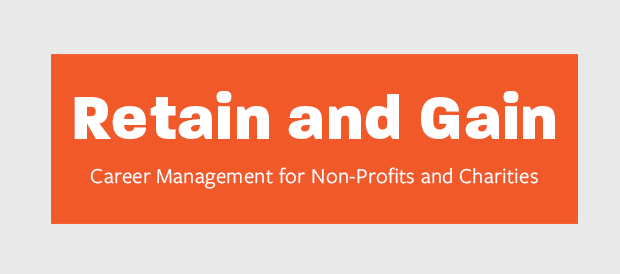 Project Partner: Challenge Factory
Languages: English and French
This bilingual resource will support Canada's not-for-profit and charitable sector with retaining staff and building capacity through career management. It will be an adaptation of the successful 2017 Retain and Gain: Career Management for Small Business Playbook. Organizations in the non-profit sector – the vast majority of which have fewer than 500 employees – share many of the same human resource challenges as small business, such as limited opportunities for traditional "advancement", but also possess more distinctive features, such as gender-based career patterns.
The concise Playbook is intended for executive directors and people managers within non-profits and charities to use as a practical career management tool with their employees. Two million Canadians are employed in the charitable and non-profit sector, according to Imagine Canada, representing an opportunity to impact a significant portion of the country's working population. The original need for the Playbook was identified in a CERIC's Environics survey showing that 71% of employers say they have responsibilities for career development, but only 29% of them say they are doing anything about it.
The Playbook is being written by career management expert Lisa Taylor, President of Challenge Factory, and includes the support of Knowledge Champions, including The Counselling Foundation of Canada, Lawson Foundation, The Muttart Foundation, Imagine Canada and the Ontario Nonprofit Network. An Advisory Committee is helping guide the content of the publication, which incorporates findings from interviews with non-profit leaders and managers across Canada.
The Playbook will include:
Key career development research, statistics – relevant to Canadian non-profits and charities
Strategies to engage full-time and part-time staff in ways that advance, develop and support thriving careers within the sector
40+ practical, low-cost tips, activities and actions that can be implemented in as little as 10-minutes a day
Special sections on issues of particular interest to non-profits and charities, e.g. precarious employment
Innovative "travel guide" format with worksheets and additional references included
Playbooks will be available for free download and for sale in both print ($15.95) and ebook ($6.50) via Amazon.ca and Chapters.Indigo.ca. Bulk copies of 10 or more can be purchased through CERIC at a 30% discount.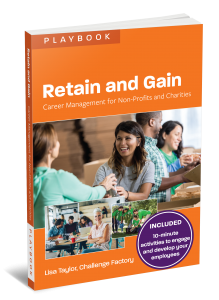 Retain and Gain: Career Management for Non-Profits and Charities Playbook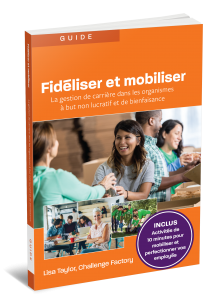 Fidéliser et mobiliser : la gestion de carrière dans les organismes à but non lucratif et de bienfaisance
Knowledge Champions
Knowledge Champions consist of a select number of organizations supporting the development and dissemination of the Playbook.
Our special thanks to the following Knowledge Champions for their leadership: