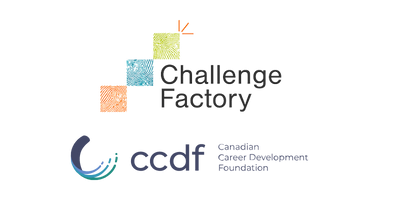 Project Partners: Challenge Factory, Canadian Career Development Foundation (CCDF)
Challenge Factory and the Canadian Career Development Foundation (CCDF) have partnered with CERIC to scope and map who is providing career services across Canada.  
Much of Canada's career development field is not visible or known to Canadians and policymakers. Without a comprehensive evidence base that identifies who does the important work of career development across the country, several challenges will continue to hinder the advancement of the field. First, the impact, magnitude and value of the sector's work will remain misunderstood and poorly recognized. Second, the current and future needs of the sector will go unmet, including the learning and skills requirements of this varied group of professionals. Third, there will be no meaningful way to understand, assess and address gaps in Equity, Diversity, Inclusion and Indigeneity (EDII) that affect both clients and service providers. 
The goal of this project is to demonstrate the breadth and depth of support that Canadians receive from this hidden sector as we all navigate changing labour market and employment landscapes. The core project deliverable will be a market research report that informs and enables everyone in the career development field to chart a path forward together. By conducting original research and drawing on the results of previous studies, this project will create an up-to-date snapshot of the Canadian field while avoiding the duplication of surveying work that has already been done. The findings will be presented at Cannexus24. 
ABOUT US 
Challenge Factory is a workforce development research agency and consultancy that helps purpose-driven organizations and communities shape the Future of Work, bringing transformative change to their people and workplaces through trust and courage. We focus on using business as a force for good and advancing the United Nations Sustainable Development Goals. This project advances the goals of decent work and economic growth, reduced inequalities and partnerships for the goals. 
The Canadian Career Development Foundation (CCDF) is a non-profit centre of excellence and innovation committed to ensuring every Canadian has the skills, strategies and supports they need to be successful architects of their learning, work and career transitions. To this end, CCDF conducts rigorous research to strengthen the evidence base, develops programs and tools to support labour market attachment, creates educational/labour market policy solutions and builds the capacity of the career development profession to offer timely, targeted, inclusive and impactful services.