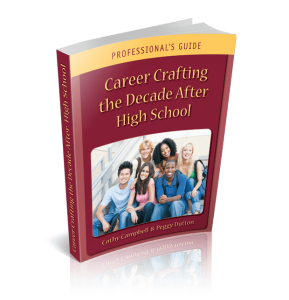 | | |
| --- | --- |
| Author(s) | Cathy Campbell and Peggy Dutton |
| Publisher | CERIC |
| ISBN | 978-0-9811652-6-4 |
| Get your own copy | $19.99 |
About the Authors

Cathy Campbell, PhD has over 20 years' experience as a researcher, career counsellor, program developer and manager in school, community college, university and government settings. She has extensive experience at both a client and program level in helping young adults make effective transitions into post-secondary education and into the workplace.
Peggy Dutton has spent over 30 years as a career information specialist, creating an eclectic range of career resource products for educators, counselling practitioners and the general public.
Synopsis

Backed by current scholarship and based on a study of the experiences of young people in the decade after graduating from high school, Career Crafting offers a powerful and insightful portrait of the early career journeys that young adults undertake, told in their own words.
The authors dispel the "Career Myth" that those in their late teens and 20s should follow a linear, predictable route from high school to post-secondary training, and then on to permanent, full-time jobs. They argue that the unrealistic expectations of the Career Myth create anxiety for young adults, which, in turn leads them to make poorly thought out career decisions or to procrastinate for fear of making the wrong choice.
Straightforward and accessible, the book provides practical counsel and effective tools that professionals can use to help reduce young adults' anxiety and to assist them to take action in the face of uncertainty. Eight Career Crafting Techniques are introduced that integrate chaos-friendly approaches to career counselling that emphasize the fluidity of young people's career journeys with more traditional ones. While the focus of this book is on young adults, it is a must read for career professionals who work with clients of all ages.