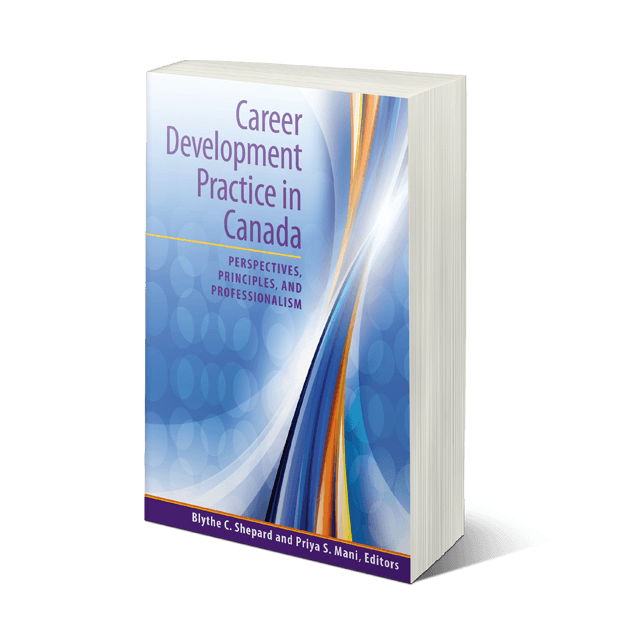 CAREER DEVELOPMENT PRACTICE IN CANADA: PERSPECTIVES, PRINCIPLES, AND PROFESSIONALISM
Download Textbook Chapters for Free!
As of September 2016, all 22 chapters of CERIC's Career Development Practice in Canada textbook can now be downloaded individually for free, opening up access to this valuable resource for students, educators and practitioners alike.
The book has been designed to be a learning tool for students, a resource for educators and a reference for career practitioners in the field.
The soft cover textbook can be purchased online ($48.00 CAD) or as an ebook ($27.99 CAD) from Amazon.ca or Chapters.Indigo.ca. Institutions with an account can order directly from Ingram.
Purchase bulk copies (10 or more) at 30% off through CERIC. Contact sales@ceric.ca with any questions.
With a Foreward by Norman Amundson, contributors are internationally recognized experts and thought leaders in the career development field in Canada including: Phil Jarvis, Roberta A. Neault, Nancy Arthur, Bryan Hiebert and Kris Magnusson.
Synopsis
Featuring 22 chapters in 7 sections:
Section 1: Development of the Profession
Section 2: Basic Conceptual Frameworks of Career Development Practice
Section 3: The Nuts and Bolts of Career Development Practice
Section 4: Working with Diversity
Section 5: Navigating Developmental Tasks and Pathways
Section 6: Specialties in the Profession
Section 7: New Directions and Emerging Trends in Career Development Practice
Includes: Stop-and-Reflect moments to apply the material; a glossary of key terms; references with web links; discussion and activities for individuals and groups; and resources and supplementary readings.
Created for use in curriculum and training by:
College and university programs in career development at both an undergraduate and graduate level
Other college and university programs/courses that want to include a career development segment
Private trainers and training institutions focusing on career development
Associations in the field offering continuing education
Plus, individual career practitioners seeking to further their knowledge
Texttalks is a series of monthly discussions with authors of CERIC's new Career Development Practice in Canada textbook. We bring you insights from thought leaders in the career development field.