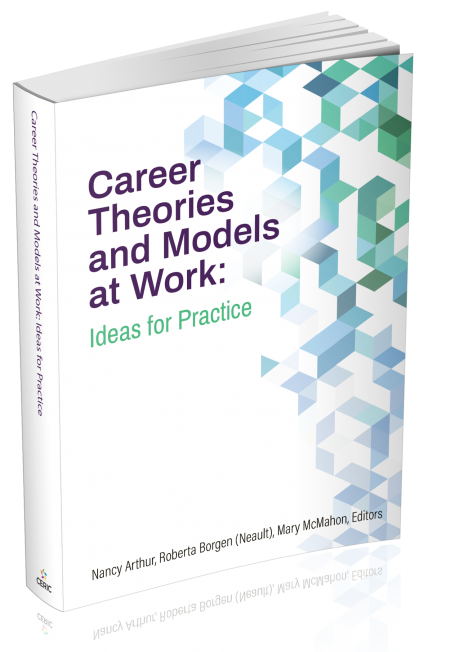 | | |
| --- | --- |
| Editor(s) | Nancy Arthur, Roberta Borgen (Neault), Mary McMahon |
| Publisher | CERIC |
| ISBN | 978-1-988066-34-9 |
Synopsis

This edited international collection of contemporary and emerging career development theories and models aims to inform the practice of career development professionals around the globe. It is also intended to be used as a text for undergraduate and graduate career counselling courses.
In order to effectively serve clients and the public, career practitioners need to be equipped with the latest theories and models in the field. Ethical career practice requires practitioners to be up-to-date with their knowledge about theory – and how theory informs practice. This publication provides practitioners with a tangible resource they can use to develop theory-informed interventions.
Contains 43 chapters on the theories and models that define the practice of career development today
Contributors are 60 of the leading career researchers and practitioners from four continents and nine countries: Australia, Canada, England, Finland, India, the Netherlands, New Zealand, South Africa and the United States
Featured authors include the original theorists and those who have adapted the work in unique ways to inform career development practice
Presented in a reader-friendly format, each chapter includes a Case Vignette that illustrates how a theory or model can be applied in practice, and Practice Points that summarize key takeaways for career practitioners to implement with clients. Additional references are also included.
Get Your Copy
Print $59.95 Cdn or ebook $34.50 Cdn (Kindle or Kobo) via Amazon.ca or Chapters.Indigo.ca
International orders can be placed via Amazon websites around the world
Institutions with an account can order directly from Ingram
Purchase bulk copies (10 or more) at 30% off by contacting sales@ceric.ca
Instructors: To request a desk copy of this publication, please contact sharon@ceric.ca
About the Co-Editors
Dr Nancy Arthur is the Dean Research in UniSA Business, University of South Australia. She co-developed the model of Culture-Infused Counselling, which was the basis of an award-winning text. Dr Roberta Borgen (Neault) is President of Life Strategies. She is past Editor of the Journal of Employment Counselling, leading the "Thoughts on Theories" special issue. Dr Mary McMahon is an Honorary Senior Lecturer, School of Education, The University of Queensland. She co-developed The Systems Theory Framework.
Publishing of this book was made possible in part by the generous contributions of these Knowledge Champions.