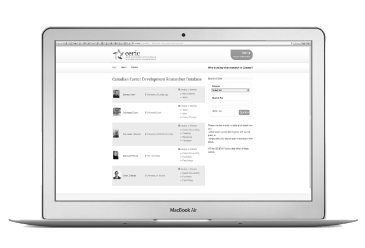 A new version of the database is currently under construction. Please check back again soon!
CERIC has developed the Canadian Career Development Researcher Database to answer the question: "Who is doing what research in Canada"?
Canada is home to many leading researchers across the country, whether at universities or within community-based settings, doing important work across many areas of interest within the career development field. The database brings this rich information together in one easy-to-use searchable online resource.
Consistent with CERIC's strategic objectives, it is our intent that by documenting the research being done in Canada, we can continue to advance knowledge in career development theory and practice, champion collaboration among diverse stakeholders and facilitate conversations between career practitioners and researchers.
How is the database of use?
Researchers can use the database to identify potential academic and non-academic partners for future research projects.
They can also use it to determine research already being done in Canada and how to best move this knowledge forward.
The database is also of value to those seeking to learn about the latest research in any area of career development.
In particular, anyone applying for CERIC project funding will find the database of use to determine if their project is sufficiently unique, how to proceed in building on existing research, and whether there is potential for collaboration.
How does it work?
You can search more than 40 areas of interest, by province and by individual institution. You can also search for keywords. Or simply browse through the list of nearly 160 researchers.
How can I add my information?
CERIC endeavours to keep the database as current as possible. However, researchers are encouraged to take "ownership" of their own profiles on the site and update them as required. Researchers can also contact us directly and request changes.
Similarly, if you are doing career development research in Canada and would like to be added to the database, please get in touch with us at admin@ceric.ca – help us make this work in progress a useful and valued tool.