Michel Turcotte honoured with Etta St John Wileman Award
In recognition of his leadership and contributions to career development in Quebec, Canada and around the world for over 30 years, Michel Turcotte received the Etta St John Wileman Award at the Cannexus17 National Career Development Conference on January 24 in Ottawa in front of 1,000 of his peers. The award celebrates individuals who have devoted their lives to furthering the field of career development. Past recipients have included Marilyn Van Norman, Denis Pelletier, Norman Amundson, Mildred Cahill, Bryan Heibert and Donald Lawson.
Jennifer Browne, the Chair of the CERIC Board of Directors, presented the award to Turcotte and highlighted his significant impact. "By creating numerous strategic partnerships, initiatives and opportunities, he always sought to ensure for all his fellow citizens, quality services enabling them to excel and take their place in society through work. It's fair to say that many Canadians, without being aware of it, are benefiting from the knowledge, vision and perseverance of efforts that span his varied career," said Browne.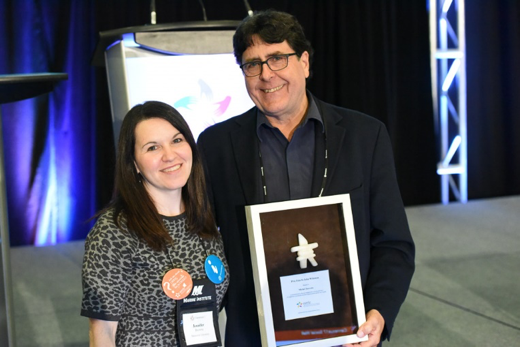 Michel Turcotte receives the Etta St John Wileman Award for Lifetime Achievement in career development from CERIC Board Chair Jennifer Browne during the Cannexus17 conference.
As a manager, researcher, consultant and trainer, Turcotte held key positions in the federal government Department of Human Resources and Skills Development over a span of 29 years. He has been actively involved on boards across all levels of the field, including the Ordre des conseillers et conseillères d'orientation du Québec (OCCOQ), the Canadian Counselling and Psychotherapy Association (CCPA) and the International Association of Educational and Vocational Guidance (IAEVG). Additionally, he has played leadership roles in pan-Canadian and global career development and public policy symposia, in the Canadian Standards and Guidelines for Career Development Practitioners (S&Gs) and in the creation of the Canadian Research Working Group for Evidence-Based Practice in Career Development (CRWG).
Turcotte has distinguished himself in developing and implementing models and tools for providing educational and career counselling as well as training and certification programs for counsellors. He has managed research on the use of labour market information for various clients and organized events and initiatives to improve the quality of interventions and skills of careers practitioners nationally and internationally, highlighted by the 2014 IAEVG International Conference in Quebec City. He also authored and co-authored several articles on the development of the profession and services to the populations of Quebec, Canada and the world.
The award, which is presented on a less than annual basis, is given in the name of Etta St John Wileman. In the early 20th century, Wileman was a champion and crusader of career, work and workplace development in Canada. She was also a strong advocate for a national system of employment offices. Her vision was clear and uncompromising: "Work is a social obligation which has to be provided in order that both individual and society may reap the benefit of constant productivity."