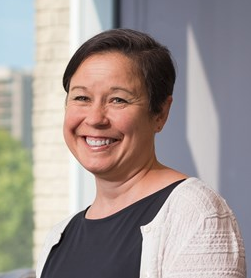 Careering
10 Questions for Deborah Saucier
Dr Deborah Saucier is an accomplished academic and successful university administrator. In July 2017, Dr Saucier joined MacEwan University as President. Before coming to MacEwan, she spent six years at the University of Ontario Institute of Technology in Oshawa, ON, as Provost and Vice-President, Academic and also as the former Dean of Science.
Born in Saskatoon, Dr Saucier is a member of the Central Urban Metis Federation Inc. She is deeply committed to diversity, equity and inclusion and to the power of education to transform lives. She is married to curator and contemporary artist Chai Duncan. They have a 10-year-old daughter who is the light of their lives.
Dr Saucier will be the Opening Keynote at the Cannexus National Career Development Conference, Jan. 28-30, 2019, in Ottawa.
1. In one sentence, describe why career development matters.
We don't exit university with our career aspirations fully formed, so we need to continue to learn and develop over the span of our careers to take advantage of new opportunities.
2. Which book are you reading right now?

University Commons Divided: Exploring Debate and Dissent on Campus, by Peter MacKinnon.
3. What did you want to be when you grew up?
I don't have a strong memory of wanting to have a specific career when I was a child. Thinking back, I probably wanted to be a doctor – and I happen to be one, so I guess it worked out.
4. Name one thing you wouldn't be able to work without?
Everything is on my iPad – my notes, schedule, photos, music and Twitter. Working wouldn't be the same without it.
5. What activity do you usually turn to when procrastinating?
If you see me tidying my desk (which at the moment includes a selection of Lego – the women of science and NASA), a jar with three balls in it to remind me about balance, a foam brain, a pile of books, a half-eaten bag of cheese puffs and more paper than I care to acknowledge – there's sure to be a less-appealing task I'm avoiding.
6. What song do you listen to for inspiration?
I like pop music and my favourites vary by season. Right now, it's "Say Something" by Justin Timberlake and Chris Stapleton. The other night when my 10-year-old daughter needed a boost, it was Beyonce's "Single Ladies".
7. Which word do you overuse?
I know I'm not alone in overusing the word "actually," but I'm going to work on using it less.
8. Who would you like to work with most?
I've been fortunate to work with incredibly talented people, including a Nobel Prize winner. I'd love to have the chance to work with Buffy Sainte-Marie.
9. Which talent or superpower would you like to have?
I love Marvel movies, so this question is right up my alley. I was asked the same thing a few months ago – at the beginning of my presidency at MacEwan – and I think my answer then was x-ray vision. That has changed. These days, I'd have to pick teleportation. It would make life so much easier.
10. What do you consider your greatest achievement?
Having a healthy, beautiful 10-year-old daughter.