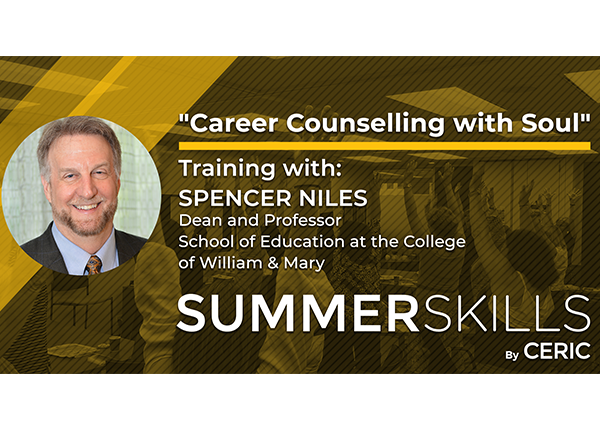 2019
Just announced: Spencer Niles at Summer Skills Academy 2019 – Career Counselling with Soul
CERIC's 2019 Summer Skills Academy will feature a special one-day interactive training opportunity: Career Counselling with Soul with career expert, professor and keynote speaker Dr Spencer Niles. This seminar will be held on Tuesday, August 13 at the CERIC office in Toronto.
Today, many people struggle to express their "true selves" in the work they perform and the lives they live. The bombardment of competing expectations and many workplace rules can shape who you become and how you live in ways that threaten your authenticity. Sometimes we are so intent on fitting in and succeeding that we are only vaguely aware that this is happening to us. This full-day session focuses on strategies for encouraging clients to make career choices that honour their souls or authentic selves.
Spencer Niles is the Dean and Professor for the School of Education at the College of William & Mary. Previously, he served as Distinguished Professor and Department Head at the Pennsylvania State University. Additionally, Niles has directed a career counselling centre for adults, worked as a career counsellor in higher education, maintained a private practice focusing on career counselling, and served as a career counsellor for middle school and high school students. He has taught in 27 countries, has 130 publications related to career practice, and is the recipient of many awards from the American Counseling Association and the National Career Development Association, where he is currently President.
What other career professionals said about their learning experiences with Spencer Niles…
"This seminar was so inspiring and eye opening. Definitely going to implement this in my career as well as in my life. I didn't even realize I was having soul-spirit disconnect and I feel like I'm awake now. I didn't want the lecture to end."
"Spencer is a wonderful clinician and researcher. He has a depth not often seen and he is a gift to the practice of counselling and career therapy."
"Excellent speaker that left me with remarkable takeaways that will influence my daily work. I feel encouraged and inspired to play bigger and connect with community and spirituality."
The cost for the one-day seminar at the Early Bird rate is $195 and $245 for regular rate. Special discounts are available for groups. Space is limited to 30 spots and they are expected to go quickly.
CERIC's Summer Skills Academy was developed to meet the need for career practitioner training that is face-to-face, in-depth and budget-friendly.
Find complete information and register at ceric.ca/summerskills.