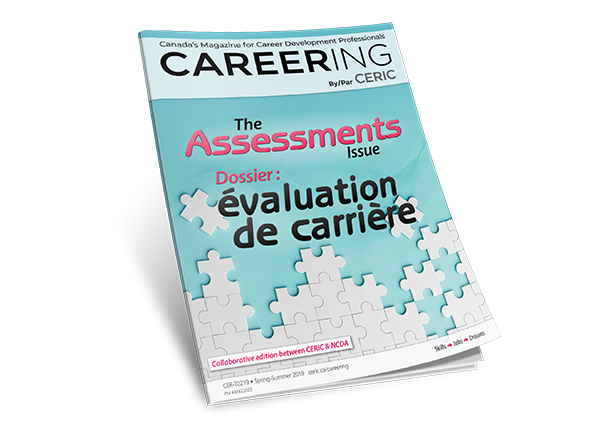 2019
The Spring-Summer issue of Careering dives into career assessments
Career professionals often work with clients by using a variety of assessment tools and strategies. How do we identify the right type of tool to fit client needs? The Spring-Summer collaborative issue of Careering magazine with the US-based National Career Development Assessment (NCDA) highlights the theme of "Career Assessments" from a broad range of perspectives.
Articles in this issue:
More from the print edition:
…and these Online Exclusives:
Careering magazine is Canada's Magazine for Career Development Professionals and is the official publication of CERIC. It is published three times a year both in print and as an emagazine, including select content in French. Subscribe to receive your free copy. You can also access past issues for free online.
The next issue of Careering magazine (Fall 2019) will be on the theme of "Green Careers." We welcome topic proposals representing a range of interpretations of this theme, from the intersection of climate change and career development, to emerging industries, to discussing sustainable careers with students in K-12, and much more. Please review our submission guidelines and send your article pitch to the Editor: lindsay@ceric.ca by June 28, 2019.