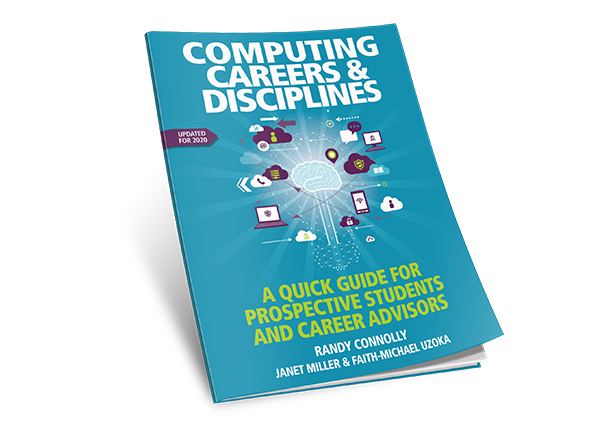 2020
Revised for 2020: New edition of guide to computing careers for students and advisors now available
CERIC has released an updated guide to computing careers, responding to strong demand for computing graduates in Canada and a changing technology landscape. Authored by Randy Connolly, Janet Miller and Faith-Michael Uzoka of Mount Royal University, the second edition of Computing Careers & Disciplines: A Quick Guide for Prospective Students and Career Advisors provides the latest information on types of computing careers and the academic pathways to get there. The new guide is available for free download now and will be launched at the Cannexus National Career Development Conference in Ottawa next week.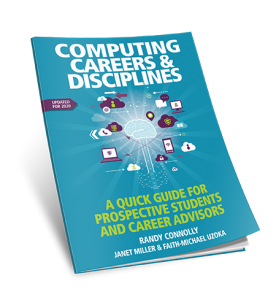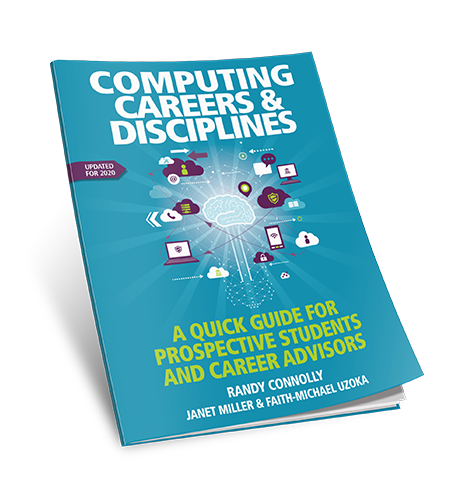 Friendly and approachable, the new guide describes the five main computing disciplines as defined by the Association for Computing Machinery (ACM), as well as expands on six other popular computing specializations. These descriptions are designed to help support prospective students, parents, academic advisors and career counsellors in making sense of the maze of computing disciplines and post-secondary options. For each of the main disciplines, the guide provides an overview of job tasks, as well as listing core courses, sample degrees, and other pathways at Canadian colleges and universities.
The colourful, graphic-rich guide expands on the content of the popular first edition from 2017 to answer these three questions:
Why should you consider computing when choosing a career?
What kind of computing jobs are out there?
What kind of education pathways will guide you to the computing career you desire?
The guide builds on findings from a CERIC-funded international research project that surveyed thousands of students and faculty from Canada, the US and Africa. Research showed most undergraduate students did not understand the differences between computing disciplines. The guide was also developed to meet a need among career advisors supporting students interested in technology at both the secondary and post-secondary levels. The guide assists students to make decisions around computing education and career paths that align with their values, interests and skills. In particular, the guide helps equip students with adequate discipline information prior to application for program admission or prior to when they are required to choose a major.
The updated guide seeks to dispel myths about computing careers. Contrary to stereotypes, computing is often highly social. It also supports flexible lifestyles, can be creative and allows for work abroad. The guide also underscores that computer work is highly varied and is more than just programming.
The five different computing disciplines described in the guide are:
Computer Engineering – concerned with the design and construction of computers and computer-based systems
Computer Science – covers the widest range of computing topics from its theoretical foundations to the development of new computing technologies and techniques
Information Technology – prepares students to meet the computer technology needs of business and other organizations
Information Systems – focuses on integrating information technology solutions and business processes
Software Engineering – the discipline of developing and maintaining large software systems
Specializations include: network technology, data science, bioinformatics, game development, multimedia + web development and cybersecurity.
The guide highlights that there are many pathways to most computing careers. This includes three- and four-year degrees, two-year diplomas and one-year certificates in addition to stand-alone training or post-degree specialization. The guide also notes that computing careers can be confusing to navigate, as program titles don't always map to the five discipline areas or to job titles in the workforce.
The new edition of the guide has been enhanced with alumni profiles and additional resources. More content can also now be found on a companion website, computingcareers.ca. A revision to the French version of the guide is under way and expected to be ready this spring.
In addition to a PDF that can be downloaded for free on CERIC's website at ceric.ca/computing, print copies are available at $10/copy through CERIC for bulk orders of 10 or more. Single copies will be for sale at the Cannexus20 conference only. Contact sales@ceric.ca for more information.
The guide authors will be presenting at Cannexus20 on Computing Disciplines 2.0: What Career Advisors Need to Know on Monday, January 27.