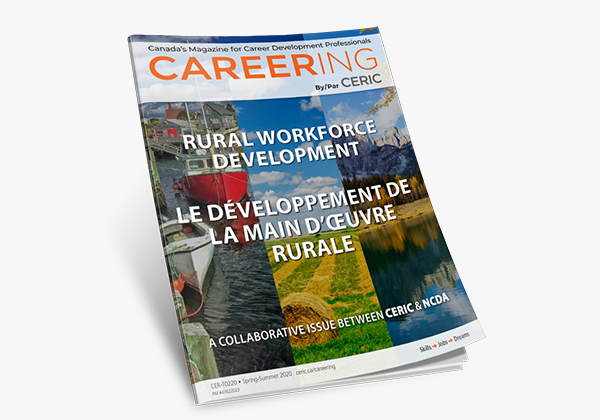 2020
Spring-Summer Issue of Careering focuses on rural workforce development
As part of the third collaborative edition between CERIC and the National Career Development Association (NCDA), the Spring-Summer 2020 issue of Careering magazine highlights "Rural Workforce Development."
You will find articles from both sides of the border exploring creative solutions to labour shortages, the challenges of unequal broadband access, how to ensure the viability of the agriculture industry, trends in rural workforce development and much more. Several articles also analyze the impacts of COVID-19.
Articles in this issue:
…and much more, including:
Careering is Canada's Magazine for Career Development Professionals and is the official publication of CERIC. It is published three times a year both in print and as an emagazine, including select content in French. Subscribe to receive your free copy. You can also access past issues for free online.
The Fall 2020 issue of Careering will be on the theme of "Career Superpowers." Please send a brief description of your idea to Editor Lindsay Purchase, lindsay@ceric.ca, no later than June 30. Article deadlines will be set for this summer in conjunction with writers.