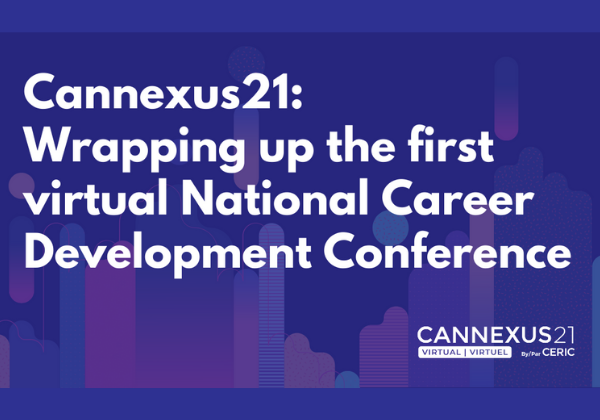 2021
First virtual Cannexus conference reimagines role of career development in society, economy
More than 2,000 career development professionals from across Canada and around the world came together for the first-ever virtual Cannexus conference to convene, share and learn over four days in late January and early February. With a theme of "Career Development for Public Good," the conference explored how to re-imagine career services as a gateway to social and economic justice in the wake of the global pandemic.
A few of the many conference highlights included four transformative keynotes:
Executive Advisor Zabeen Hirji made the case for a human-centred approach to the future of work;
Professor Kris Magnusson explained the powerful role of emotions in helping clients navigate career processes;
Olympian Perdita Felicien told her powerful story of growth from failure and not letting one moment in life define you; and
The Hon. Ethel Blondin-Andrew talked about the opportunities for Indigenous peoples in the conservation economy.
The conference featured several timely streams, including Pandemic Recovery, Around the World and Workforce Development. With the virtual conference, many renowned international presenters were able to participate such as Jim Bright, Tristram Hooley and Nancy Arthur. Among the 150 different education sessions, there was strong interest in topics around:
Advocacy and rethinking how we organize and value work
Engaging with uncertainty and embracing the chaos of current times
Building resilience in youth to navigate their futures
Impact of COVID-19 on the labour market and reskilling
Blended delivery models for career services
Self-care for career professionals and emotional well-being
Other components of the conference focused on making connections and peer-to-peer networking with Cannexus21 offering exhibitor booths, "Hallway meetings," a virtual cocktail party, a student meet-up and interactive chats.
CERIC showcased some of its recent and forthcoming projects at the conference including:
Additionally, though the Etta St. John Wileman Award for Lifetime Achievement in Career Development was not given out this year, the conference brought attention to the work of this lifelong social justice activist through profiling past award recipients and asked delegates to consider who they might nominate. The nomination deadline is June 30, 2021.
In a post-conference survey, 92% of delegates rated the virtual conference as good to excellent with 94% indicating that over time, they would incorporate what they learned into their work. Delegates cited enjoying the convenience of attending Cannexus remotely, the high-calibre sessions and the value in being able to access all the session recordings. However, many noted missing in-person connections and the energy of gathering face-to-face.
Comments included:
I was blown away by the virtual experience that Cannexus21 provided! The speakers, the sessions, the passion, the knowledge, the expertise and the insight that was shared was outstanding! I've learned, I've reflected, and I've pondered all that I heard looking for moments when I can put into practice all the takeaways!"
– Rhonda Taylor, CEO, Career Trek, MB
"After 11 months of scrambling to serve our clients to the best of our abilities in an ever-changing, complex environment, Cannenxus21 was such a blessing. I have been feeling disconnected while working remotely…the chance to convene with like-minded professionals was like adding air to a deflating balloon. I feel validated and renewed. If there was one year to attend, this was it!"
– Kimberlie Ladell, Employment Counsellor, Fanshawe Career and Employment Services, ON
"Brilliant, engaging world-leading conference. Powerful keynotes, targeted and outstanding seminars that allowed me and my staff to engage in rich topical discussions even in lockdown. Thank you for offering this fantastic conference so the world could experience the advancements that Canada has made in career development for all its citizens."
– Bernadette Gigliotti, CEO, Australian Centre for Career Education
Cannexus21 was presented by CERIC and supported by The Counselling Foundation of Canada with a broad network of 40 supporting organizations and partners.
The Call for Presenters and information about dates and format for Cannexus22 will be available in the coming months. In the meantime, all registered Cannexus21 delegates continue to be able to access the conference recordings for a full year.