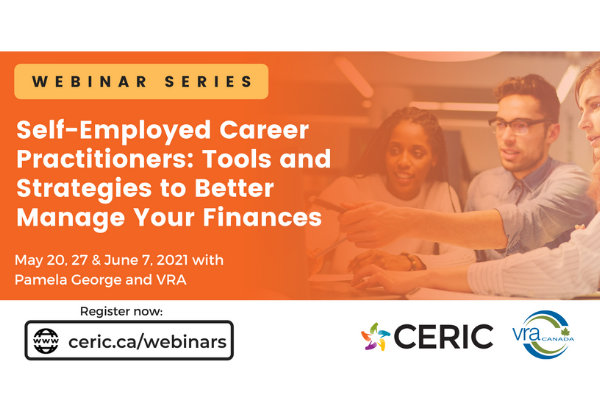 2021
New webinar series to help career professionals enhance their financial literacy
CERIC is partnering with the Vocational Rehabilitation Association of Canada (VRA) to offer a new webinar series for career practitioners to enhance their learning on current personal financial management practices. The 3-part series, Self-Employed Career Practitioners: Tools and Strategies to Better Manage Your Finances will be led by accredited financial literary counsellor Pamela George.
Often career practitioners, like many Canadians, have limited understanding of finances, how credit works, and of the potential impact on their financial well-being. With an ongoing shift towards self-employment, it becomes more important, especially in light of the pandemic, for career practitioners to educate themselves around financial literacy. This webinar series will help career practitioners who are self-employed themselves – or who support clients who are part of the growing gig economy.
Webinar #1: How to Set up and Organize Your Finances for Success, Thursday, May 20, 2021 | 12:00 pm – 1:00 pm ET
Webinar #2: BUDGETING – How to Build a Personal Budget, Thursday, May 27, 2021 | 12:00 pm – 1:00 pm ET
Webinar #3: Type of Savings and How to Pay off Debts, Thursday, June 3, 2021 | 12:00 pm – 1:00 pm ET
The cost for the full series is $159. A discount is available for VRA members.
George has been steadfastly committed to one overarching goal: To educate and empower Canadians, so they may regain control of their finances and start living the life they want. Whether she is counselling individuals, couples, families, solopreneurs, entrepreneurs or groups, George has successfully helped thousands of people pay off debt, build budgets and save for the future.
CERIC partners with associations and organizations across Canada and beyond to present webinars that offer timely, convenient and affordable professional development. Previously, CERIC has also worked with the Canadian Association for Supported Employment, New Brunswick Career Development Association,  Canadian Association of Career Educators & Employers, Canadian Counselling and Psychotherapy Association, BC Career Development Association, Association of Service Providers for Employability and Career Training BC, Career Professionals of Canada, Ontario Association for Career Management, Career Development Association of Alberta, Nova Scotia Career Development Association, and the US-based National Career Development Association.