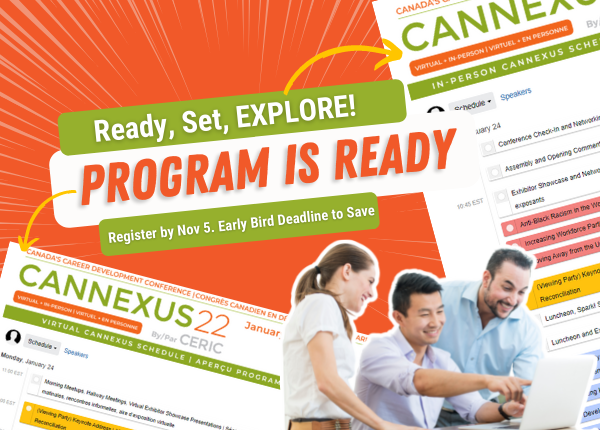 2021
Explore the 150+ sessions: Program now available for Cannexus22 conference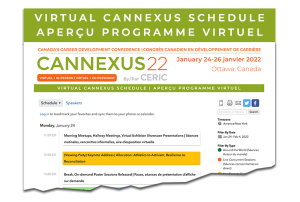 The Cannexus22 hybrid program has now been released for both the virtual edition and Ottawa-based in-person version of Canada's largest Career Development Conference, taking place Jan. 24-26, 2022. The program includes more than 150 sessions that will keep participants current with the latest knowledge, skills and tools as well as help to sustain resilience as we approach two years of the "new normal."
Cannexus brings together professionals across the career and workforce development ecosystem to explore research, policy and practice. The conference will continue to reimagine the impact of career development on education, the economy and social justice as pandemic recovery unfolds. In the past, in-person Cannexus conferences have drawn more than 1,200 delegates to convene, share and learn, and, last year, the virtual conference attracted more than 2,300 participants.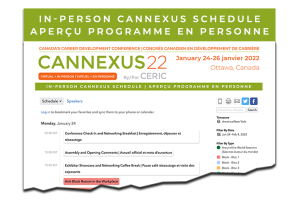 The conference offers special programming throughout including Around the World global perspectives on career development, a Workforce Development Spotlight on improving employment opportunities through systemic change and the return of the KAIROS Blanket Exercise, exploring the relationship between Indigenous and non-Indigenous peoples in Canada.
Featuring top researchers, practitioners and thought leaders from across Canada and around the world (Norm Amundson, Tristram Hooley, Sareena Hopkins, Kris Magnusson, Mark Franklin, Lisa Taylor, Spencer Niles, Rich Feller, Dave Redekopp, Roberta Borgen (Neault) and many more), here is just a sampling of the sessions that will inform and inspire:
Beyond Hybrid: Pathway to Your Blended Workforce

Green Careers, Fossil Careers: Career Decision-making on a Changing Planet

Engaging Employers to Enhance Equity and Access in the Workplace

What Good Workforce Development Looks Like in Indigenous Communities

Mature Workers and the New World of Work

Understanding Hope: Theory, Assessments & Interventions

Connecting Career, Experiential Learning and Reflective Practice

International Advocacy Panel: Influencing Real Change

Creating a Career Development Culture Across K-12
Virtual Services: Competencies CDPs Need for the Future

Students Perspectives on Careers and Career Development 2022

Creating Trauma-informed Organizations

Connecting Career Development and Mental Health for Youth

Career Services: Impact, Proof & New Evidence

Anti-Black Racism in the Workplace

Staying Employable in an Age of Disruption

EQ Development: A Critical Career Development Strategy

 

Career Mapping: The Missing Link in Education Planning

 

Architecting our Sector's Future of Work

 
All in-person attendees receive access to the virtual platform and its sessions at the end of the conference. (All recordings remain available in the platform for six months.) As you go through the programs, you'll also note the sessions – including all keynotes: Waneek Horn-Miller, Yvonne Rodney and Randell Adjei – that act as bridges between the in-person and virtual conference, creating a shared Cannexus experience. A new BONUS virtual day on Feb. 4, a week after the conference ends has been added to help you reflect on what you've learned and to take action. 
Delegates can save by registering by the Early Bird deadline of Friday, Nov. 5. The cost during Early Bird is $330 for the virtual and $500 for the in-person conference. Plus, members of groups of 5 or more save a further 25% off Early Bird rates as do members of 36 supporting organizations.