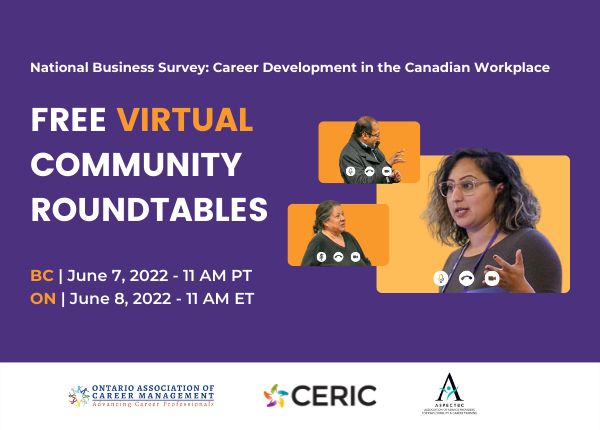 2022
CERIC and partners to host Virtual Community Roundtables on Employer Engagement
CERIC invites career development professionals to share their experiences and ideas around employer engagement at free live Virtual Community Roundtables in June. The first roundtable will be held in Ontario in partnership with OACM (Ontario Association of Career Management) and another in British Columbia with ASPECT BC (Association of Service Providers for Employability & Career Training). The roundtables will focus on the findings of CERIC's National Business Survey.
CERIC surveyed 500 employers to examine the state of Career Development in the Canadian Workplace. Canada's employers have told us about their challenges with recruitment and retention, about skills and talent gaps in the labour market and about the kinds of career management supports they provide for employees.
Now, with the roundtables, career development professionals from all sectors – non-profit agencies, secondary school, post-secondary education, government, corporate, private practice – who engage regularly with employers will have the opportunity to share their perspectives:
What's worked when it comes to engaging successfully with employers?
What do we need to do to demonstrate the value of career development and career development professionals?
By contributing to cross-sector, peer-to-peer learning, CERIC aims to positively influence employer awareness of the career services field. Participants will walk away with concrete and practicable strategies as well as shareable resources to be developed based on the discussion.
These are provincially-focused, participatory, cameras-on events:
Virtual Community Roundtable in British Columbia | Tuesday, June 7, 2022 | 11:00 am – 12.30 pm PT
Virtual Community Roundtable in Ontario | Wednesday, June 8, 2022 | 11:00 am – 12.30 pm ET
Any career development professional working with employers in these provinces who wants to contribute is welcome to register. Both interactive roundtables are free but limited to 100 spots to ensure the opportunity for everyone to participate.
These events follow the release of the detailed survey findings (as well as an infographic and executive summary) which can be found at www.ceric.ca/nbs2021. Recordings of a two-part webinar series with employers and career development professionals around collaboration to address common workforce needs are also available.
If your organization is interested in partnering with CERIC on a Community Roundtable in your province or region, please contact CERIC's bilingual Learning and Development Specialist Cyrielle Filias at cyrielle@ceric.ca.