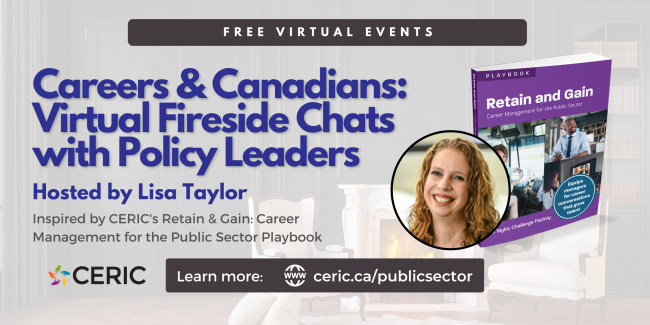 This series explores how career management can be taken up as a powerful tool in public policymaking, a theme in CERIC's new playbook Retain and Gain: Career Management for the Public Sector. Leading current and former policy leaders from across the country will sit down with playbook author and future of work expert Lisa Taylor. 
Date: Friday, March 25, 2022 | 12:00 pm – 1:00 pm ET (check your timezone)
Guest: Paul T. Lafleche, Deputy Minister, Department of Seniors and Long-Term Care; Deputy Minister, Municipal Affairs and Housing, Government of Nova Scotia
Host: Lisa Taylor, President, Challenge Factory
Cost: FREE
Overview 
The world of work, Canadian society and the challenges facing both are changing. The public sector is adapting, and its leaders need new tools to ensure they are developing and implementing strong, effective programs, practices and policies – both as an employer and in service of all Canadians. The work done by public servants at all levels of government and across jurisdictions impacts the lives, livelihoods and careers of every Canadian.  
In this series, the thought-provoking conversations will begin with a discussion about the leader's own career journey. The focus will then be on the value of connecting careers thinking to the development, delivery and measurement of public goods and services. The dialogue will also address how and when career professionals can best influence the creation or transformation of public policy.
Why government policymakers should attend  
The ways in which work is changing requires a fulsome career development approach. While career programs are typically considered the remit of departments of education and employment, there is evidence that career development principles can and should be included in many other public sector portfolios. Learn how career development contributes to the public good for all Canadians. 
Why career development professionals should attend  
Increasingly, career development professionals have been expanding their focus to advocate for public policy and systems change. Join us to discuss how to engage with government around helping citizens to construct decent, productive and meaningful careers. You'll learn how to effectively link career development to policy agendas and demonstrate the effects of career development on the current and future workforce. 
What you'll learn 
What are the opportunities for policymakers to apply careers thinking and planning as part of public sector mandates?  

 

What types of program considerations can be enhanced with a holistic career lens?

 

How might adopting a focus on the full career circumstances and needs of Canadians shift policy development?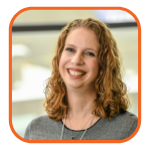 A sought-after expert on today's fast-changing world of work, Lisa Taylor is President of Challenge Factory and the Centre for Career Innovation. Lisa offers invaluable leadership and insights on how to gain strategic workforce and career advantage with a focus on talent equity, demographics and new market dynamics. She is the author of The Talent Revolution: Longevity and the Future of Work, the Retain and Gain series of Career Management Playbooks and The Canadian Guide for Hiring Veterans. Read more.
Retain and Gain: Career Management for the Public Sector
Career management – at every level of government – offers a strategic lever for stronger organizational performance and success. This Playbook identifies 40+ low-cost tips, activities and actions that public sector managers can take starting today (some in only 10 minutes a day) to attract, engage and retain staff. Written in an innovative "travel guide" format, the Playbook integrates a focus on diversity, equity and inclusion (DEI) throughout and recognizes the unique context of public sector workplaces. It includes a special section on "Careers and Canadians," outlining how career management can be a powerful lens for the development of public policy and delivery of public services.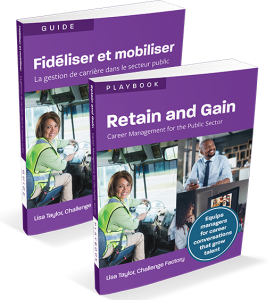 ``Informative and casual. It deals with issues in a creative not dry manner.``

- Conversation with Paul T. Lafleche attendee
``It was an inspiring and thought provoking conversation with one of Canada's foremost thought leaders on career development``

- Conversation with Alastair MacFadden attendee