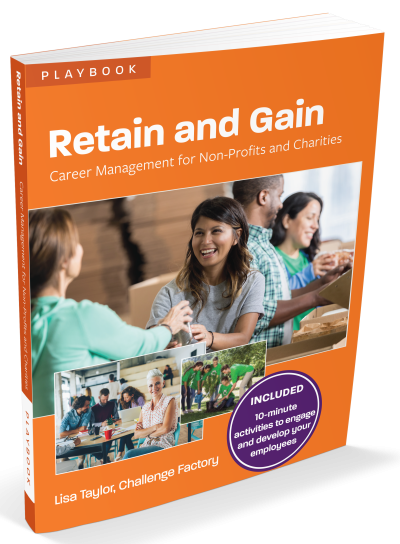 | | |
| --- | --- |
| Author(s) | Lisa Taylor |
| Publisher | CERIC |
| ISBN | 978-1-988066-37-0 |
Synopsis

This Playbook identifies 40+ low-cost tips, activities and actions that non-profits and charities can take right now (some in only 10 minutes a day) to attract, engage and retain staff. Written by author Lisa Taylor in an innovative "travel guide" format, the publication includes:
Special sections on new graduates, the aging workforce and precarious employment, and provides planning templates and links to unique resources
Research, facts and statistics that shed new light on Canada's non-profit workforce
Practical career management tools to use with employees in ways that advance thriving careers and build the capacity of the non-profit sector
Career management – even for the smallest non-profits – offers a strategic lever for stronger performance. Indeed, career management affects more than just employee satisfaction and loyalty. It drives better client service, faster identification of ways to deliver on your mission and increased opportunity for growth – for staff as well as for your organization.
Also in the Retain and Gain Series:
Get Your Copy
About the Author
Lisa Taylor is founder and President of Challenge Factory and the Centre for Career Innovation. Her career and workforce perspectives have been featured in media outlets across North America including the Wall Street Journal, Huffington Post, CBC and The Globe and Mail. Taylor regularly speaks on the Future of Work, the intergenerational workforce and the changing nature of careers in today's economy.
Publishing of the Playbook was made possible in part by the generous contributions of Knowledge Champions.