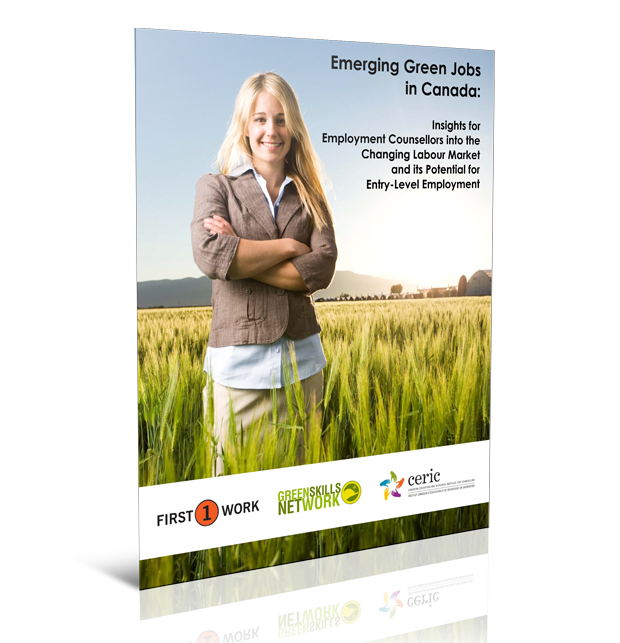 Emerging Green Jobs in Canada
As Canada transitions to a greener economy, its labour market is transforming and new employment opportunities are emerging. This report – resulting from a partnership project between CERIC and the Green Skills Network – will assist employment counsellors, job developers and jobseekers in gaining a better understanding of these effects, specifically as they relate to entry‐level employment in renewable energy and energy conservation.
Entry‐level is defined as jobs that require less than a post‐secondary degree. The focus on entry‐level jobs is due to the ongoing challenges in youth employment in Canada. The focus on renewable energy and energy conservation is due to these sectors providing the most opportunity for entry‐level work. Renewable energy includes occupations found in the generation and distribution of wind energy, solar energy, bioenergy and hydropower. Energy conservation for the purpose of this report relates to jobs found in energy efficient building, including new building construction and retrofitting of existing buildings.
The report includes:
An expoloration of the green economy and green jobs
Occupations in renewable energy and energy conservation
Job task analyses, inventory of training program, inventory of employees and a map of reneweal energy and energy conversation projects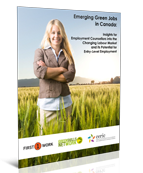 Emerging Green Jobs in Canada: Insights for Employment Counsellors into the Changing Labour Market and its Potential for Entry-Level Employment
Report
Size
875.42 KB
Last Updated
May 17, 2018
Download
---