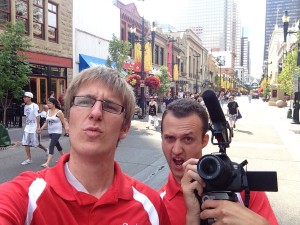 Careering
Road to Employment: Advice for Youth that Just Makes Sense
By Rebecca McCarthy
Clinton Nellist and Denis Luchyshyn are blazing trails across Canada. Packing all their things, throwing caution to the wind and relying on the kindness of strangers, they lived out of their car for three months. Why would two perfectly employable 20-somethings quit their jobs and live on the open road? To meet over 150 career professionals, employers and recent graduates who were willing to share the best employment advice with the nation through the Road to Employment docuseries and web resource.
The individuals sharing their stories come from diverse backgrounds that include the humanities and social sciences, and aren't limiting experiences to students in fields typically seen as the most employable such as business, public administration or communications – although, let's be honest, business students don't know "what's up" for themselves more than the rest of us. At its very core, the Road to Employment docuseries, web resources and speaking engagements touch on the interdisciplinary nature of the job market, and the umbrella skills that are often spoken of but aren't really understood.
"I left [school] with no game plan, no aspiration to do anything, and found myself working at Target selling cell phones. With a Bachelor's degree," says Clinton.
As more and more students find themselves out on the job market, competing with the world, and not just their classmates, the realization that they are leaving school without the experience or connections necessary to remain competitive comes crashing towards them in what feels like a wave of emotionless tasks, instead of a trickle of skill-building experiences.
"Are you worried about your job prospects once you graduate?" Denis asks a female student in the opening of the docuseries. "I don't want to think about it yet, so, I don't know," she replies.
Pressing pause, Denis leans back in his chair, pointing to the screen. "This is what we keep hearing over, and over again. It doesn't matter where we were in Canada, everyone said the same thing. Students are afraid of leaving the safe routine that school provides for them."
Graduating students are finding out more and more that just getting the degree isn't enough. The skillset that is cultivated in the academy is not enough to land a job; students also need connections, experience and the ability to articulate their skills to potential employers. And although career professionals have been pushing hard for students to wake up and take charge of their career development, many are just not taking the bait.
Road to Employment's message about how classwork does not equate real-world experience isn't new. Students need to be leaving campus and do something they haven't tried before in order to put themselves out there. Getting this real-world experience can be an overwhelming, intimidating and daunting task, especially when it's the job of your dreams on the line. Clinton and Denis know it, and they're meeting students where they're at: online, using YouTube, social media and blogs.
The docuseries and the featured videos are at the heart of Road to Employment, acting like a "virtual reference book." It's a great source for both aspiring and established professionals, but the magic really comes into play when used in small group discussion. Videos sparking discussion online on Facebook or on the Road to Employment blog provide the opportunity for students to connect and ask questions that connect to youth experiences both on and off screen.
It's all very tongue-in-cheek online. Inspired by television satirists and sites like BuzzFeed, the videos and blog entries are lighthearted and funny. Although the job market for recent graduates is peppered with depressing stories of struggle, Road to Employment positively delivers the most valuable information to youth.
"What we want to do is to bridge that communications gap between students and the career development programs in place that are there to help," Clinton says. "This is the exact information and network that I wish I had before graduating."
Each episode of the docuseries is less than 30 minutes long, leaving the audience energized. Part One of the series, "Engage", was made available in April, and Part Two is set to launch in September. Feedback for Part One has been overwhelmingly positive, as professionals and students across the nation share the video through their personal networks.
These networks are driving Clinton a
nd Denis back across Canada. Now that the creative aspect of the documentary is in its final stages, Clinton and Denis have been invited to attend conferences and events across Western Canada as keynote speakers. Talking to career developers as advocates for youth, and connecting with youth about their relevant experiences, the lessons they learned through their journey across Canada are shared through their personalized, dynamic appearances.
"If future graduating classes are better prepared for the job market, regardless of their academic or personal background, we'll know that we've done our job. All the sleepless nights in the cars," Clinton remembers, "and all the meetings we've had from day one will all be worth it in the end when students reframe how they understand their careers."
"Our friends thought we were nuts for starting what we did," Denis adds. "But we couldn't just hang around trying to convince them of something they weren't able to see yet. We had to get out in front of everyone and put into practice everything we wanted to learn."
Clinton and Denis are youth of today, on a mission for the youth of tomorrow. You can find them online at roadtoemployment.ca where you'll find links to their social media channels and blog. You'll also find Part One of the docuseries available for streaming through both their website and YouTube. It's all there, ready to browse through, because learning to succeed should not be harder than taking the action necessary to succeed.
Rebecca McCarthy is a writer and editor from Victoria, BC living in Chicago, IL. She writes for Road to Employment, sharing only the most embarrassing stories that matter. She's worked as a babysitter, theatre producer and department store employee, but has since found her calling as an academic ESL editor.