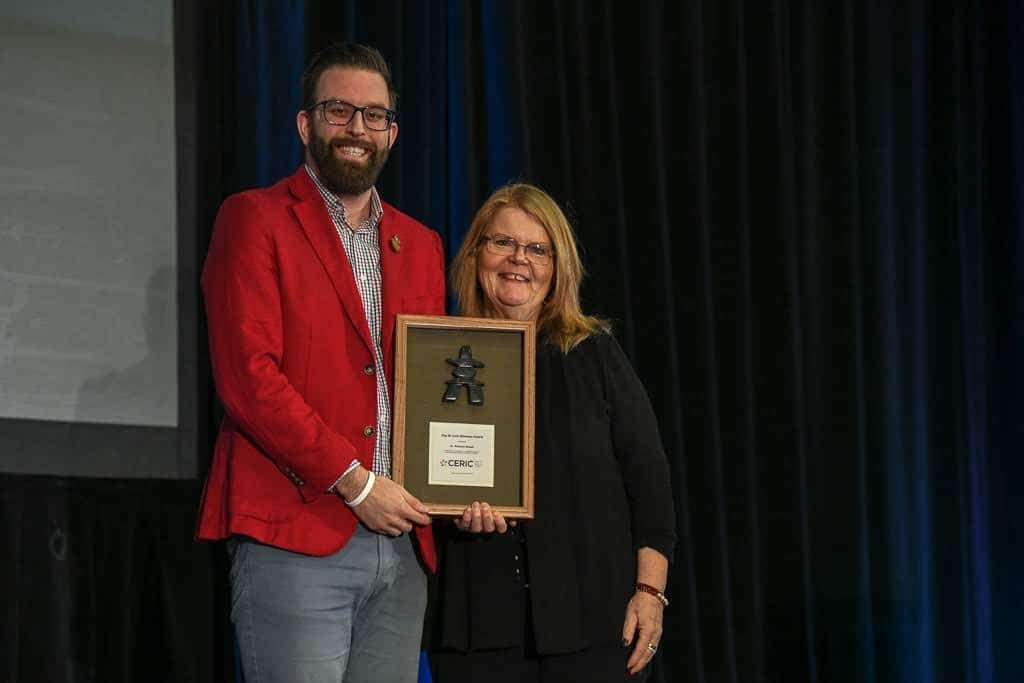 2019
Dr Roberta Neault receives Etta St John Wileman Award for Lifetime Achievement in Career Development
In recognition of her contribution to the growth of career development, not only in Canada but around the world, Dr Roberta Neault was honoured with CERIC's Etta St John Wileman Award on January 29 in Ottawa at the Cannexus19 National Career Development Conference, attended by close to 1,300 of her peers. The award celebrates leaders in the field who combine being a mentor, educator, advisor, advocate and role model.
CERIC Board Chair John Horn presented the award to Dr Neault, highlighting her lifetime of achievements. "From providing local in-person skill development for front-line workers to overseeing pan-Canadian research into the dissemination of labour market information and the use of career assessment within career development practice, her impact on the career development sector can be found everywhere," Horn said.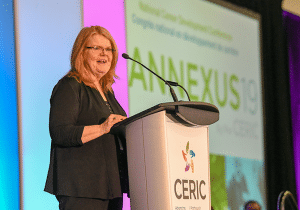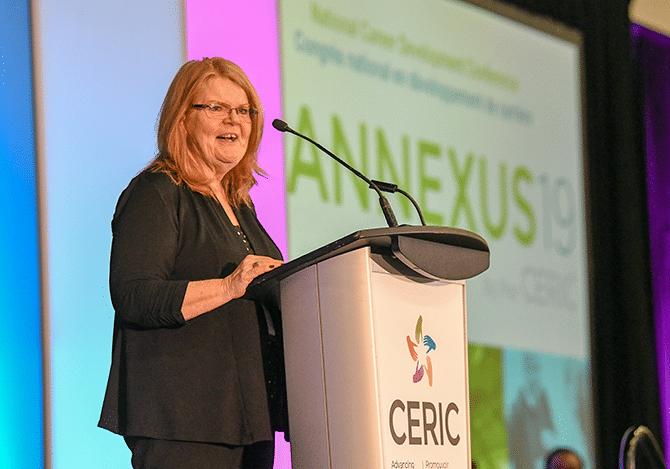 Dr Neault, CCC, CCDP, GCDFi, is President of Life Strategies Ltd., Project Director with the Canadian Career Development Foundation, and President of the Counsellor Educators Chapter of the Canadian Counselling and Psychotherapy Association. She has almost four decades of accomplishments in counselling, coaching, consulting, training, curriculum design, research and writing.
She has served on countless distinguished boards and committees committed to advancing the professionalization and training of career development practitioners in Canada at local and national levels. She's supported revisions to the Canadian Standards & Guidelines for Career Development Practitioners and the advancement of the national Canadian Council for Career Development as a member since its inception.
Dr Neault has been a passionate contributor at The International Centre for Career Development and Public Policy International Symposium as a member of Team Canada. She attends and presents at international conferences, regularly learning from professionals across the globe and sharing Canadian career strategies.
She has authored countless blogs, articles, papers and books on career development, including a chapter within CERIC's Career Development Practice in Canada. She continues to look for strategic partnerships and innovative ways to bring the career development community together both nationally and globally. This is exemplified recently in her role as co-editor of the new CERIC publication, Career Theories and Models at Work: Ideas for Practice, which brings together 60 leading researchers and practitioners from four continents and nine countries.
Initiated in 2007, the Etta St John Wileman Award for Lifetime Achievement in Career Development recognizes individuals who have devoted their lives to furthering the profession of career development and the sector as a whole. It is given on less than an annual basis. Past recipients have included Marilyn Van Norman, Denis Pelletier, Norman Amundson, Mildred Cahill, Bryan Hiebert, Donald Lawson and Michel Turcotte.
In the early 20th century, Wileman was a champion and crusader of career, work and workplace development in Canada. She believed that work was about the individual and in the importance of work to the human soul. Wileman was a strong advocate for a national system of employment offices. She also lobbied for the role of parents and schools in the career development guidance of children.