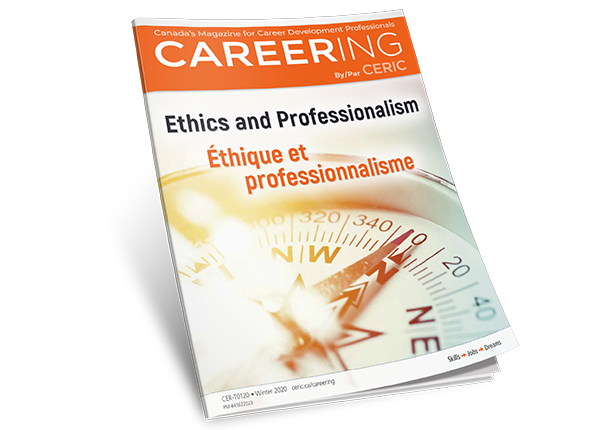 2020
The Winter issue of Careering highlights ethics and professionalism
This Winter 2020 issue of Careering magazine offers a crash course in many of the ethical dilemmas career professionals face today – what they are, the questions they raise and how to navigate them. Articles highlight the ethical codes available to career professionals, explore the implications of technology and look at ethics related to specific client populations, including newcomers, K-12 students and LGBTQ2+ jobseekers.
Articles in this issue:
…and much more, including:
And these online exclusives:
Careering magazine is Canada's Magazine for Career Development Professionals and is the official publication of CERIC. It is published three times a year both in print and as an emagazine, including select content in French. Subscribe to receive your free copy. You can also access past issues for free online.
The next issue of Careering will be on the theme of "Rural Workforce Development" and will be a collaboration with the US-based National Career Development Association. Send your article pitches to Editor Lindsay Purchase, lindsay@ceric.ca, by Feb. 14.