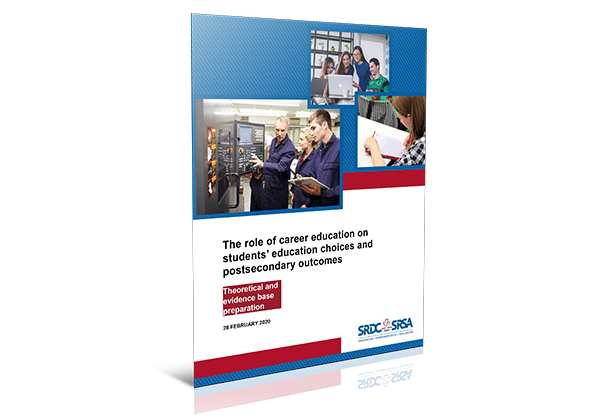 2020
Report explores literature on when, where and how youth make career decisions
An initial report prepared by the Social Research and Demonstration Corporation (SRDC) as part of a CERIC-supported research project – which aims to clarify when, where and how youth initiate and craft their career aspirations – is now available. The report, "The role of career education on students' education choices and postsecondary outcomes: Theoretical and evidence base preparation" consists of an extensive literature review drawn heavily from a previously unpublished report funded by Employment and Social Development Canada. SRDC has updated the earlier work to inform the analysis it is undertaking as part of the CERIC research project, an empirical exploration of the long-term effects of career education interventions involving 7,000 Canadian youth in three provinces.
To ensure the construction of the most appropriate analytical models reflecting the latest evidence on successful career development strategies for youth, SRDC has examined the existing literature to consider (a) the stages of youth decision making and the key influences at each stage, (b) the role of career education in supporting post-secondary decisions, and (c) the kinds of career education resources available, taking into account the strengths and weaknesses of these sources.
The report has four parts:
First, it considers the context for supporting career development decisions in the 21st century: what is influencing the demand for information and support for career decisions among Canadian youth, giving particular consideration to NEETs (youth who are Not in Education, Employment or Training) and PINEs (Poorly Integrated New Entrants);
Second, it reviews mainstream theories and models in the literature for career development/educational decision making – including lessons informed by behavioural economics – for youth. This section explores the extent to which there is consensus in the literature on the ages and stages in the career decision-making process for young people in Canada;
Third, it emphasizes what is known about where career education and resources fit into the overall career decision-making process for youth in both the K-12 and post-secondary systems, including the role of labour market information and the role of intermediaries; and
Finally, it prepares the ground for producing evidence-informed recommendations for the forthcoming empirical analysis that support youth and those who influence them (parents, counsellors, peers) as they make decisions about post-secondary education and career choices.
The impetus for the project is that while Canada is an international leader on many indicators of K-12 education performance (OECD, 2019) and has among the highest rates of post-secondary education (PSE) attainment of all OECD countries, it still has a significant proportion of youth who leave the formal education system ill-equipped for their transition to the world of work. Transition "derailment" can take many forms from students leaving high school before graduating to PSE graduates who struggle to demonstrate the skills required by employers.
The project explores the key reason behind this: that Canadian students typically exit education with insufficient career education and first-hand experience of the labour market. If students leave high school without a basic idea of who they want to become and are under- or mis-informed about the relevant opportunities open to them, they will not plan appropriately and find themselves making poor choices. The chances of ending up in precarious employment or unemployment can increase. The situation can become chronic if they cycle through periods of work, poorly focused re-training and unemployment.
To tackle such problems, educators as well as policy and program decision-makers are likely to want to develop measures to target youth at different stages of their educational and early labour market careers. Well-designed supports to career decision making would ideally be delivered in ways that help youth grow into discerning consumers of education, who know when and how they should invest in their futures for optimal impact on their later lives. Such refinement and customization of career education need to be founded on the best evidence concerning how such interventions fit into youth's decision making, which is where this project is intended to make a contribution.
This project will utilize new data to examine how the piloted early career education interventions in SRDC's BC Advancement Via Individual Determination (BC AVID) and Future to Discover (FTD) programs affect the evolution of high school students' career decision making. This project makes use of two rich longitudinal data sources created through the linkage of education records to surveys of youth and parents to examine the career expectations and decisions of students for five years since Grade 10.
From the literature review, SRDC researchers conclude that the research on youth career decision making is still in its infancy. There is limited evidence on the effects of youth career education on the long-term evolution of their career decisions. Also missing from the evidence is how career education helps especially vulnerable youth facing multiple barriers in their transition to the labour market.
The report summarizes the implications of this review for the project:
Social cognitive career theory is an important paradigm from which to consider career development because it sheds light on the importance of environmental and contextual factors. For example, parents, career counsellors, teachers and peers are all groups that can influence career decision making among youth.
Because of behavioural biases and tendencies among youth, career decisions are not always rational even if relevant and valuable career education and information are available. The empirical analysis should consider the effects of this in interpreting the results.
Age or stages of career development are important as they determine brain maturity, which affects decision making.
Institutional and social factors also influence the decision-making process.
Multivariate models and longitudinal models would help in the analysis, though the focus should be to take advantage, wherever possible, of the randomized control trials embedded in the datasets in assessing the long-term effects of career education on career path development.
SRDC is a non-profit research organization, created specifically to develop, field test and rigorously evaluate new programs. SRDC's two-part mission is to help policymakers and practitioners identify policies and programs that improve the well-being of all Canadians.
The final report is expected to be ready in the coming months.