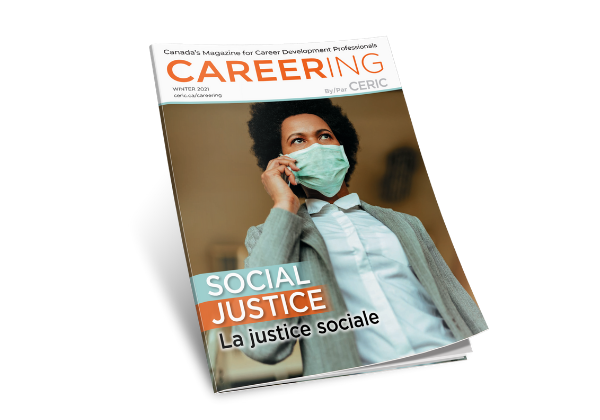 2021
Winter 2021 issue of Careering focuses on social justice
This digital-only issue of Careering, on the theme of Social Justice, highlights the importance of understanding the context in which people pursue education and work – or are prevented from doing so to their full potential. It also reminds us that career development can be a powerful tool to challenge inequities and to advance the public good.
The COVID-19 pandemic has shone a light on the longstanding inequities affecting individuals' career development options and outcomes. While high-profile activism and a precarious employment landscape raised public consciousness of these challenges in 2020, these issues – and the work being done to challenge them – are certainly not new.
Articles in this issue:
And much more:
Careering magazine is Canada's Magazine for Career Development Professionals and is the official publication of CERIC. It is published three times a year both in print and as an emagazine, including select content in French. Subscribe to receive your free copy. You can also access past issues for free online.
The Spring-Summer 2021 issue of Careering magazine will be on the theme of "Career Pivots." New contributors are welcome, and can submit in English, French or both languages. Please review our Submission Guidelines and send a 1-2 paragraph proposal outlining your topic idea to Editor Lindsay Purchase, lindsay@ceric.ca, no later than January 29.