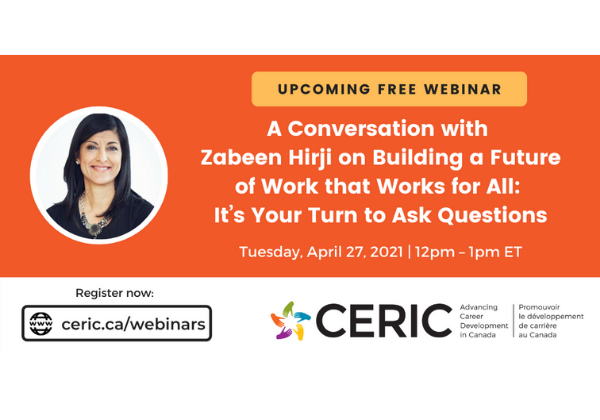 2021
Free follow-up webinar with Zabeen Hirji on Cannexus keynote: "A Future of Work that Works for All"
CERIC is offering a free webinar – A Conversation with Deloitte Executive Advisor Zabeen Hirji on Building a Future of Work that Works for All: It's Your Turn to Ask Questions – on Tuesday, April 27. It comes as a follow up to her popular keynote earlier this year at Cannexus21, Canada's Career Development Conference where she will further explore the topic of inclusive prosperity and answer questions from participants.
This webinar will be of interest to those working in career advising, employment services, guidance counselling, workforce development and human resources management. Anyone in the broader career development ecosystem including educators, employers and policymakers will also benefit. Whether or not you were one of our 2,300 attendees at Cannexus, all are welcome to this free online event.
Hirji will continue to discuss themes related to our shared purpose in helping people unlock their potential, achieve career success and build inclusive prosperity, including:
Re-imagining "work from anywhere," lifelong learning, employee agency and responsibility, diversity and inclusion
Building trust through transparency and authenticity, empathy, inclusion and compassion
Grasping this pivotal moment to create Work that Works for All when we are more aware of our interconnectedness but also our inequities
You can watch (or rewatch) her Cannexus keynote and fireside chat with Magnet's Mark Patterson in advance of the webinar.
As Deloitte's Executive Advisor, Future of Work, Hirji advises on issues key to the transformation agendas of business and government. She is also Executive-in-Residence at Beedie School of Business, Simon Fraser University and is the former Chief Human Resources Officer for RBC.