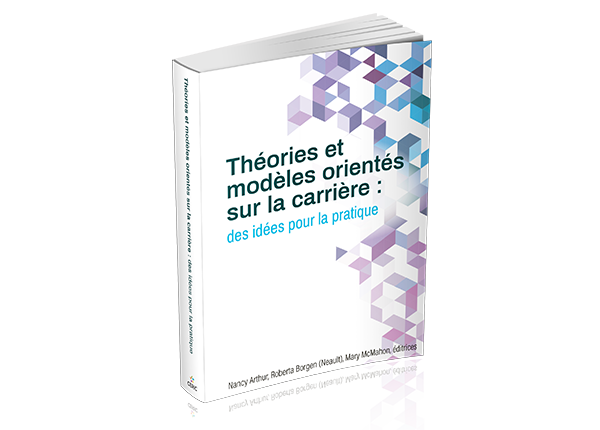 2021
French edition of Career Theories and Models at Work is now available
Now published in French, this popular international collection of current and emerging theories and models supports the practice of career development among professionals around the world and serves as a reference for post-secondary career guidance courses. An international team of research professors and doctoral students worked on the translation and linguistic revision project to produce Théories et modèles orientés sur la carrière : des idées pour la pratique.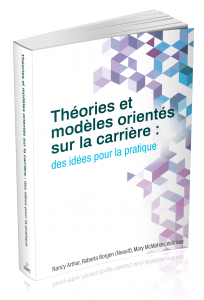 Order your copy!
The book is for sale on Amazon.ca as well as on its international sites in paperback ($77.90) and ebook ($44.85) formats. You can obtain a 30% discount on bulk orders (10 or more copies) by contacting ventes@ceric.ca.
The original edition of Career Theories and Models at Work : Ideas for Practice – edited by Nancy Arthur, (University of South Australia and formerly University of Calgary), Roberta Borgen (Neault) (Life Strategies) and Mary McMahon (University of Queensland) – has been fully translated and enhanced with an additional preface reflecting conceptual and regulatory distinctions in career guidance practices in the francophonie in Canada, Europe and elsewhere in the world. Louis Cournoyer (Université du Québec à Montréal) co-ordinated the French translation and revision for the book, with the collaboration of Patricia Dionne (Université de Sherbrooke) and Simon Viviers (Université Laval).
A message from Louis Cournoyer (in French) :
Highlights:
The collection contains 43 chapters on the theories and models defining contemporary career development practice, from Holland and Super to the more integrative, cultural, contextual and systemic models of today.
The 60 contributors are among the most important researchers and practitioners in career development. They come from four continents and nine countries: Australia, Canada, England, Finland, India, the Netherlands, New Zealand, South Africa and the United States.
Each chapter includes a case illustration that presents the practical application of a theory or model and practice points that career development practitioners can apply with their clients.
Join us for a panel discussion (in French) to mark the launch of the book Théories et modèles orientés sur la carrière : des idées pour la pratique.
Date: Tuesday August 24, 2021
Time: 12:00 pm to 1:15 pm ET
Cost: Free
Timing doesn't work for you? Register and we'll send you the recording.
The French edition of the book has won praise in Canada and globally: 
"A book that brings together as many concepts from classic theories as more current and innovative theories, as well as many examples and intervention tools, is a major reference for anyone working or studying in the field of guidance and career development… I invite you all to read and consult it regularly."
– Josée Landry, MA, c.o., President, Ordre des conseillers et conseillères d'orientation du Québec (OCCOQ)
"… The chapters offer a reflection on the link between practice and theory while also considering the major issues for our discipline, such as the question of social justice, taking into account cultural context, access to decent work, etc… A rich work, mobilizing leading authors in the field, reflecting the diversity of approaches in our field, always with a focus on application in our practices…"
– Jérôme Rossier, Full Professor, Institut de psychologie et Centre de recherche en psychologie du conseil et de l'orientation (CEPCO), Université de Lausanne