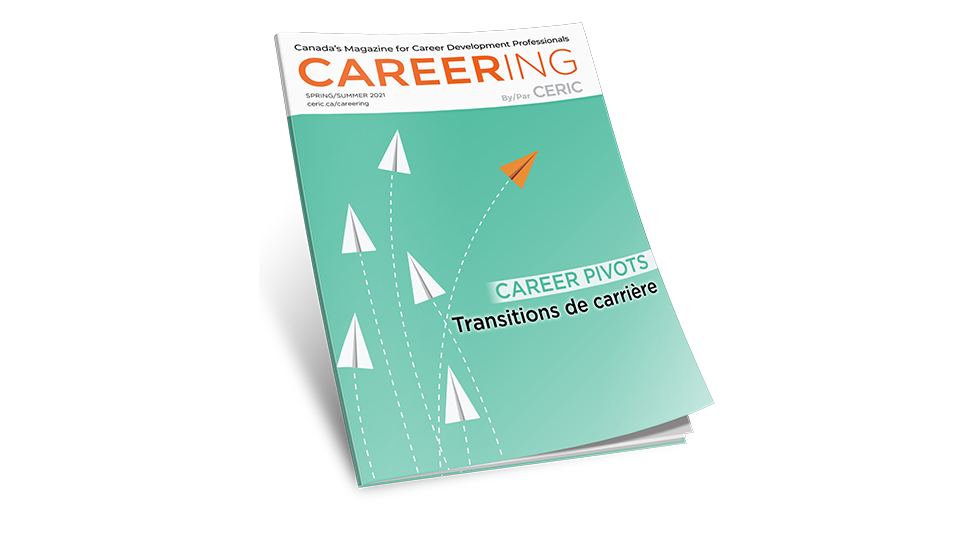 2021
Spring-Summer issue of Careering dives into Career Pivots
The digital-exclusive Spring-Summer 2021 issue of Careering, on the theme of "Career Pivots," comes at a time when the workforce is navigating immense shifts. The disruptive impact of COVID-19 on work and education is evident across many of this issue's articles, from a Grade 12 student's reflection on her future plans, to interviews with small business owners suddenly thrust into job search.
The broader takeaway, however, is a reassuring one: with the support of career education and career professionals, Canadians can develop the skills to thrive amid change. Careering authors examine theories that support client engagement and the development of a change-ready mindset; they offer strategies for employee career conversations, dealing with employment gaps and supporting lifelong learning; they present effective K-12 career exploration approaches, and much more.
Articles in this issue:
Careering magazine is Canada's Magazine for Career Development Professionals and is the official publication of CERIC. It is published three times a year and includes select content in French. Subscribe to receive your free copy. You can also access past issues for free online.
The Fall 2021 issue of Careering magazine will be on the theme of "Career Development Reimagined." New contributors are welcome, and can submit in English, French or both languages. Please review our Submission Guidelines and send a 1-2 paragraph proposal outlining your topic idea to Editor Lindsay Purchase, lindsay@ceric.ca, no later than June 30.