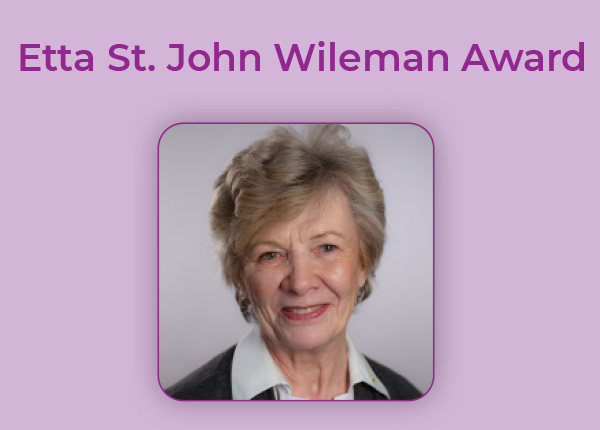 2022
Lynne Bezanson honoured with Wileman Award for her remarkable achievements
The recipient of CERIC's Etta St. John Wileman Award was announced as Lynne Bezanson, Executive Director Emeritus of the Canadian Career Development Foundation (CCDF) on Jan. 25 at Cannexus, Canada's Career Development Conference. Lynne was recognized for a remarkable career, devoting herself to strengthening the reach and impact of career development in Canada and internationally. This award for lifetime achievement celebrates individuals who have established themselves as leaders within career development and devoted their lives to enhancing the sector as a whole. 
Wileman Selection Committee Chair Jennifer Browne honoured Bezanson as a pioneer in building the professionalism of the field. "From her early days as a teacher and guidance counsellor to her extraordinary work in the federal public service and non-profit sector in areas of research and development, policy consultation and capacity building, her commitment to this field and to those it serves knows no bounds," Browne said. 
Beginning in 1976, Bezanson's achievements include creating the national Competency-based Employment Counselling Training Program with the federal government to build the competencies of 4,000 employment and special needs counsellors. This program was recognized by Canadian post-secondaries and adapted by federal employment services in France, Sweden, Japan and Malaysia. In 1990, she joined CCDF and led the Creation and Mobilization of Counselling Resources for Youth (CAMCRY) initiative. CAMCRY was the first significant research and development initiative in the field of career development in Canada and served as a catalyst for career development as a viable research focus across Canada.   
In 1993, Bezanson became the Executive Director of CCDF and shaped it to become a trusted national leadership and innovation body for the career development sector. She was instrumental in forming the Canadian Research Working Group for Evidence-Based Practice (CRWG), creating collaboration amongst francophone and anglophone researchers across Canada and establishing the evaluation framework adopted by federal government to guide funded projects. She was a driving force behind the international movement to mobilize policy, practice and research leaders. She also chaired the International Centre for Career Development and Public Policy and was an expert contributor to OECD guidance studies internationally.  
Devoted to professionalizing the field, Bezanson brought the sector together to build the Canadian Standards and Guidelines for Career Development Practitioners. The first of their kind in the world, the S&Gs have underpinned practice and training in the field for over 20 years and served as a model for countries around the world. 
The award is given in the name of Etta St. John Wileman, a champion and crusader of career, work and workplace development in Canada in the early 20th century. She believed that work was about the individual and in the importance of work to the human soul. Wileman was a strong advocate for a national system of employment offices. She also lobbied for the role of parents and schools in the career development guidance of children. Past recipients of the award have included Marilyn Van Norman, Dennis Pelletier, Norman Amundson, Mildred Cahill, Bryan Hiebert, Donald Lawson, Michel Turcotte and Roberta Borgen (Neault). It is awarded on a less-than-annual basis. 
Bezanson was not able to join us for the virtual award presentation but CERIC hopes to be able to present it to her at Cannexus in person next year in Ottawa.