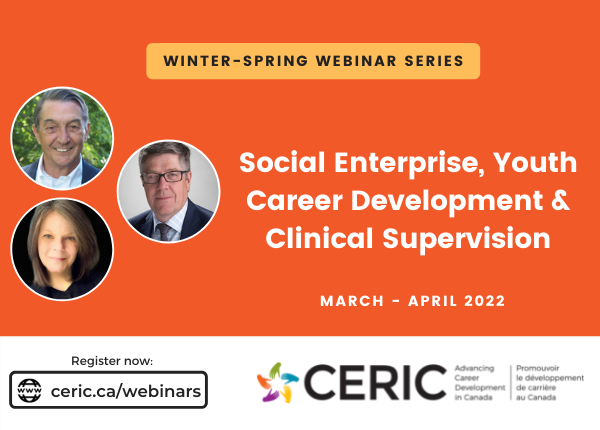 2022
Announcing winter-spring webinars: Social Enterprise, Youth Career Development & Clinical Supervision
CERIC along with its partner associations will be offering a variety of webinar series in the next few months to support the career development community on a range of timely topics.
The upcoming calendar includes:
Exploring Social Enterprise: A Solution to the Challenges of Supportive Employment presented by David Lepage, Buy Social Canada, in partnership with the Canadian Association for Supported Employment (CASE) | Thursdays, March 17, 24 and 31, 2022
Connecting Career Development and Mental Health for Youth presented by Dr. Kris Magnusson, Simon Fraser University, in partnership with the British Columbia Career Development Association (BCCDA) | Wednesdays, March 30, April 6 and 13, 2022
Supervision clinique : repères et modèles de développement de compétences (in French) presented by

Chantal 

Lepire, UQAM, i

n partnership with the Association des professionnels(les) du développement de carrière (AQPDDC) | Thursdays

, April 7, 14 and 21,

 2022
Webinar series cost $119 for members of the partnering association and $159 for non-members. For the webinar series, registered participants will receive a password-protected video recording of each session. The recordings will remain available for one month after the final webinar in the series to allow you to catch up if you miss any weeks. Individual certificates of attendance will be provided to all registered participants who attend the webinars live. 
CERIC partners with associations and organizations across Canada and beyond to present webinars that offer timely, convenient and affordable professional development. Previously, CERIC has also worked with the Canadian Association for Supported Employment, New Brunswick Career Development Association, Canadian Counselling and Psychotherapy Association, Association of Service Providers for Employability and Career Training BC, Ontario School Counsellors' Association, Experiential and Work-Integrated Learning Ontario, Career Professionals of Canada, Ontario Association of Career Management, Ordre des conseillers et conseillères d'orientation du Québec, Association québécoise des professionnels du développement de carrière, Labour Market Information Council and the US-based National Career Development Association.