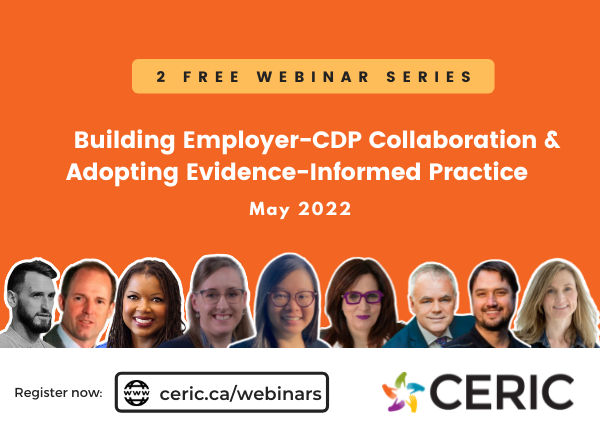 2022
Announcing free webinars May-June: Employer-CDP collaboration + Evidence-informed practice
CERIC will be offering two free webinar series in the next few months that each explore critical and timely issues in career development. The first series will highlight the realities of 500 Canadian employers captured by CERIC's new National Business Survey and compare them with the challenges faced by career and employment professionals. The second series will introduce strategies to effectively navigate the world of research, evidence and information in ways that help to do career development work better.  
Building a Bridge: How Employers and CDPs Can Collaborate to Address Workforce Needs

| Tuesday, May 10, 2022 & Thursday, May 12, 2022 | Moderated by Candy Ho, CERIC's Vice-Chair and Assistant Professor, Career and Capstone Learning, University of the Fraser Valley

Webinar #1 panellists

: 

Leah Nord, Senior Director, Workforce Strategies & Inclusive Growth, Canadian Chamber of Commerce

 

Jim Stanford, Economist and Director, Centre for Future Work

 

Andrew Bieler, Director of Partnerships & Experiential Learning, The Business + Higher Education Roundtable (BHER)

 

Brien Convery, Director, Talent Acquisition and Employee Experience, Aecon Group Inc.

Webinar #2 panellists

: 

 

Tim Lang, President of YES (Youth Employment Agency) and HRPA Board Member

 

Jake Hirsch-Allen, Director, Canadian Council for Youth Prosperity and North America Workforce Development & Higher Ed System Lead at LinkedIn

 

Surranna Sandy, CEO, Skills for Change

 

Deirdre Pickerell, Program Director, Canadian Career Development Foundation
Both webinar series are free. Registered participants will receive a video recording of each session. Individual certificates of attendance will be provided to all registered participants who attend the webinars live.  
In addition to offering its own free webinars, CERIC partners with associations and organizations across Canada and beyond to present webinars that offer affordable professional development. Previously, CERIC has also worked with the Association of Service Providers for Employability and Career Training BC, Association québécoise des professionnels du développement de carrière, BC Career Development Association, Canadian Association for Supported Employment,  Canadian Counselling and Psychotherapy Association,   Career Development Association of Alberta, Career Professionals of Canada, Experiential and Work-Integrated Learning Ontario, Labour Market Information Council , New Brunswick Career Development Association, Nova Scotia Career Development Association, Ontario Association of Career Management, Ontario School Counsellors' Association,  Ordre des conseillers et conseillères d'orientation du Québec,  Vocational Rehabilitation Association (Canada),  and the US-based National Career Development Association.