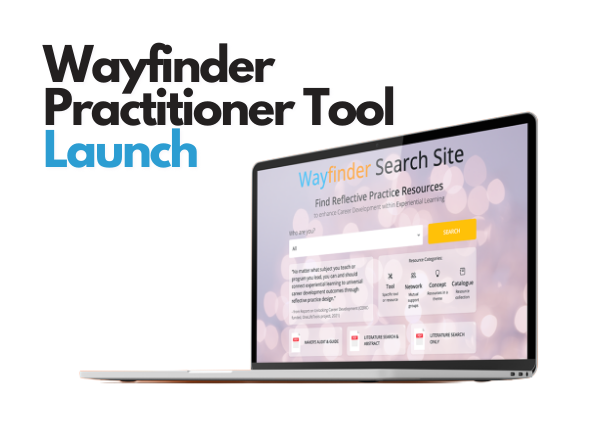 2022
Wayfinder is live: Reflective practice resources to enhance experiential learning
Today CERIC has launched the Wayfinder search site from OneLifeTools, curating top resources and insights to create or improve reflective practice on experiential learning and expand career development impact.
The product of a CERIC-funded learning project, the Wayfinder is a collection of 312 resources. It can be searched by type of resource, type of experiential learning, type of practitioner (called maker), type of learner and more. If you identify as any of the following, this site is for you:
Post-secondary staff
Any designer or developer
Event or workshop facilitator
Employer
Community organization
K-12 teacher
K-12 counsellor
Student or learner
The Wayfinder site also features several additional resources:
Maker's Audit & Guide: This Audit & Guide is for anyone designing, implementing, or wanting to improve experiential learning. It provides 1) a series of questions and prompts for makers to integrate best practices into their experiential learning programs and 2) examples of reflective practice questions and prompts to use with learners to unlock career development value.
Literature Search & Abstract: The literature search focuses on defining reflective practice and the key elements that make it effective for career development in the context of experiential learning. It sorts the reflective process into three stages essential for impactful practice: design, implementation and assessment.
To learn more, register for How Experiential Learning Supports Career Development Through Reflective Practice: Wayfinder Tool Launch on Friday, April 8, 2022 at 12:00 PM – 1:00 PM ET. Explore the new search tool, and learn reflective practices to embed in your experiential learning programs, at any level or in any setting. Presented by Mark Franklin (OneLife Tools, University of Toronto), Rich Feller (OneLife Tools, Colorado State University) and Lisa Bauman (Conestoga College).